3 September 2013

to

8 September 2013
Venue:
Teatros del Canal and Nuevo Teatro Fronterizo, Madrid
Solidarity between courageous women that dare to be on stage alone.
The Magdalena festival A Solas was held in Madrid, Spain from 3-8 September 2013.

Espectáculos/ Shows:

¿Por quien lloran mis amores? - L'Explose. Colombia. Danza
Chant de la Mer Noir - Voix Polyphoniques. Francia. Música
Mi parce - Projecte Vaca. España/ Colombia. Teatro
El espejo cambiante - Nomad Teatro. Serbia/España. Performance
La Muchacha, la ballena y el desierto - Marisa Amado. Perú/ España. Cuentos y Teatro
El país de la Ausencia - Esfera Ensamble. España. Música
Geografía Personal - Mercedes Hernández. México. Cuentos y Teatro
Ave María - Julia Varley. Odin Teatret. Dinamarca. Teatro
[aPnea] - La Ortiga. España. Teatro

Apuntes sobre la frontera - Violeta Luna. México/Estados Unidos. Performace
Kamigatamai - Keiin Yoshimura. Japón. Danza
Daughter - Jill Greenhalgh. Reino Unido. Performance

Demostraciones, Work in progress y pequeñas intervenciones
work demos, work in progress and short shows:

Work in progress de Ainara LeGardon. España
Soisola para roja - Marta González y Karen. España
Ill canto alla Luna - Residui Teatro. Italia/España
Encounters with an Empty Room - Maria Porter. Estados Unidos
Texto y danza para vacas - Mónica Cofiño. España.
Ensayo abierto "Anónimas" - Jeito Producciones. España/ Dinamarca
Work in progress de Claudia Delso. España
Work in progress "Un Girasol a la sombra" - Paula Isiegas. España
Concierto de Iris Azqueniezer.
Silbatriz - M. Luisa Pons. España
Organización/ Organization: Jeito Producciones
Equipo/ Team: Dirección, Amaranta Osorio. Producción, Cristina Ward. Dir. Tec., Miguel Angel Camacho. Administración, François Tarralle. Comunicación, Belen Fernández.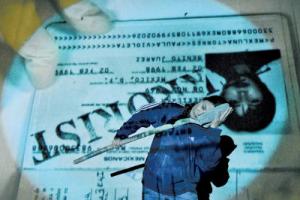 Download the full programme (pdf) or in separate pdfs:
For further information, contact:
Amaranta Osorio
skype: jeitoproducciones
email: informacion@jeitoproducciones.com
web: www.jeitoproducciones.com