The Magdalena Project, founded in Wales in 1986, is a dynamic cross-cultural network, providing a platform for women's performance work, a forum for critical discussion, and a source of support, inspiration and performance training.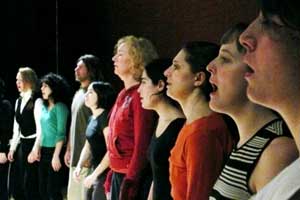 It functions as a central nexus for diverse companies, individual artists and scholars whose common interest lies in a commitment to ensuring the visibility of women's endeavour in the field of performance. Through this network, isolated practitioners across the globe have found an appropriate critical recognition of their work.
Festivals, meetings, lectures, workshops, productions, documentation, books, films, the edition of newsletters and a yearly theatre journal – The Open Page, and this website, are the means through which the cross cultural connections have been achieved.More than 100 documented gatherings, initially in Wales but now spanning Europe, the Americas, Australia, New Zealand and India, demonstrate the global presence of this Project. Publication and academic attention worldwide also evidence the regard with which this work is held within its field internationally.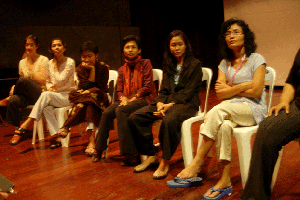 This web site functions as our virtual office, and here you can find information about the project and our current activities. Registered members can access further information and interactive features - click here to register. In the UK, the Magdalena Project is a registered charity, and other Magdalenas around the world have their own autonomous administration structures - please see the network page for more information.
The Magdalena Project in the UK is administered by a board; current board members are Helen Varley Jamieson (Chair) Jill Greenhalgh, Stevie Robins (Treasurer).
This web site has been created by Helen Varley Jamieson, Agnez Bewer, Valentina Tibaldi and Myfanwy Moore, with visual design by Steve Allison of Design Stage. It is maintained by Helen, Linda (Lyn) Cunningham and Lola Gonzalez Sanchez, with translations coordinated by Gabriella Sacco, Janaina Matter and Amaranta Osorio.
If you would like to help with the website, please email webqueen@themagdalenaproject.org
If you would like to help with translations, please email transmagnetics@themagdalenaproject.org
Administration Address
Brynderwen
Llangranog
Llandysul 
Sa44 6ad
Ceredigion, Wales
email:magdalena@themagdalenaproject.org     
www.themagdalenaproject.org