The Magdalena Project network extends around the world, encompassing over a thousand individuals and organisations who share a common ethos in their work as contemporary theatre makers.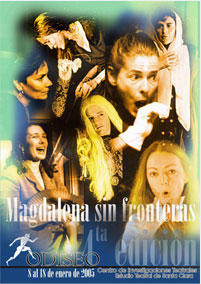 Today there are many autonomous Magdalena presences. Some have formal organisational status while others are loose gatherings of individuals; some produce regular events including festivals and newsletters; some function as communication and support networks. All are responding to specific local needs, within the context of the aims of the Magdalena Project.
If you wish to become involved with the network, there may be a local presence you can connect with (see the list below); or individuals can join the network simply by registering on this web site. There is no membership fee, but we invite donations to assist in the costs of maintaining this web site and the small but unavoidable operational costs.
Registered members can submit news and events to this web site, and communicate with each other via messaging and chat. If you are interested in becoming a member of the Magdalena Project, please click here to find out more.
Magdalena satellites
Where groups have web sites, links are provided below. Information about the festivals organised by these groups can be found in the archive.