RIO DE JANEIRO, November 9-13 2018
9 November 2018

to

13 November 2018
Venue:
M A M, TEATRO IPANEMA, CASA DE CULTURA LAURA ALVIM, CASA FRANÇA-BRASIL e SALA CECÍLIA MEIRELES
International Women's Performing Arts Festival
MULTICIDADE CONTINUES
MULTICIDADE 2018 CONTINUES WITH A MISSION to create a platform for women artists from diferent cultures to share their practices and experimentation in the contemporary theatre and it's multiple aspects. MULTICIDADE offers a wide lineup of theatre and art performances, installations, forums and workshops.
PROGRAMME: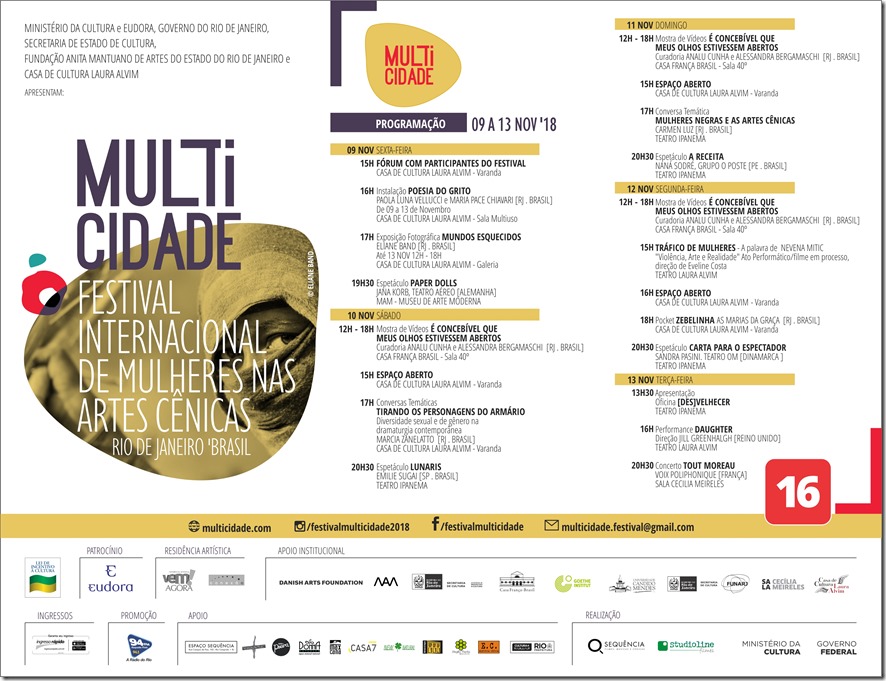 PERFORMANCES:
PAPER DOLLS - Jana Korb AERIAL THEATER / GERMANY

LUNARIS - Emilie Sugai / BRAZIL

A RECEITA - Naná Sodré - O POSTE Soluções Luminosas (BRAZIL)

LETTER TO THE SPECTATOR, Sandra Pasini, Theatre OM / DENMARK

TOUT MOREAU - CONCERTO TEATRAL with Brigitte Cirla, Éléonore Bovon e Catherine Duport, VOIX POLIPHONIQUE / FRANCE
PERFORMANCE/INSTALLATION: DAUGHTER - Directed By de Jill Greenhalgh / WALLES, UK
INSTALLATION: UM GRITO POÉTICO, Paola Luna Vellucci and Maria Pace Chiavari / BRAZIL
WORKSHOPS:
Jill Greenhalgh – workshop/creation process, DAUGHTER / WALLES, UK

Brigitte Cirla e Eleonore Bovon – SINGING WORKSHOP /France

Ana Teixeira and Jadranka Andelic - PATHS, Workshop for actors e directors/ BRAZIL

Stella Fisher e Leticia Olivares – (DES)VELHECER / (DES)AGING- Workshop for the third age participants / BRAZIL
LECTURES/ROUNDTABLES:
Marcia Zanelatto - TAKING THE CHARACTERS OUT OF THE CLOSET, About the gender and sexuality in the contemporary dramaturgy/ BRAZIL

Carmen Luz–THE BLACK WOMAN IN PERFORMING ARTS/BRAZIL

Encounter with Nevena- WOMEN TRAFFICKING - ONE STORY

Encounter with Jana Korb at Goethe Institute –AERIAL THEATRE / GERMANY (FESTIVAL +)
EXPOSITION OF THE PHOTOS by ELIANE Brand - WOMEN OF FORGOTTEN WORLDS, In search of peoples who still preserve their traditions (China, Vietnam, India).
EXHIBITIONS OF THE VIDEOS by women creators.
THE OPEN SPACE: The space dedicated every afternoon to short works, Works in progress and exchange of the information between participants.
ALL THE WORKSHOPS ARE FREE OF CHARGE.
PLEASE SUBSCRIBE AT: oficinas.multicidade@gmail.com
MORE INFO: multicidade.festival@gmail.com