Magdalena Sin Fronteras IV
Dramaturgies & Representation
8 January 2014

to

18 January 2014
Venue:
Estudio Teatral, Santa Clara
Documentation from the festival:
Festival Information:
The possibility to create a safe gathering space has inspired me to continue working to share the privilege of those meetings. From the first call in 2005 my tendency drives me to favour issues related with craftsmanship, with the problems of the trade, as if I could sense that all the time we avoid collectively discussing or thinking about the nature of the work that unites us all: theater. On the other hand I am very far from those idle and useless practices which tend to construct theories or exert criteria of truth based only on individual artistic results, deliberately ignoring the personal biography, the turns, the diatribes and the specific contexts in which each work accomplished to attest life. I do not think that the soul separates from the roads where we all fight for and defend the theater we do, but the theater we do, so different in each case, comes from a precise inspiration and has too a precise language. "Every inspiration brings its language" said José Martí, the Cuban revolutionary and poet.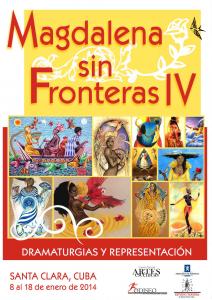 Magdalena Sin Fronteras IVI want to emphasize the themes of theatrical creation. I want to insist that every artist tries to communicate with an equivalent language the mechanisms that articulated their invention processes. I want each one of us to try to approach from its practice and its history to the subject of dramaturgies and representation, as a testimony of a process in process within a precise reality subjected to change and doubts. I'm obsessed by the brutal pragmatism that go across our world and the possibilities we have to eloquently pass our experiences, thoughts that can create illusions and sustain the sometimes unstable way of many young people who want and need a voice within such human misery. We cannot change the world, but we can, from our craft and conviction in what we do, go against the consumer attitude that pervades all areas of our lives, and also of thought and theater. That is why I insist on speaking of the craft, it seems idle but is not, our craft is our true heritage, and by believing it so precious and knowing it so fragile, we walk against the flow of consumption that always invites to bet to what is safe and to all kind of short time profits.
From now on I hope to continue weaving all these conversations and to open questions and continue growing concerns that inspire us not to go further but to go deeper.
Roxana Piñeda
Santa Clara/Cuba
June 25 2014
Confirmed Performances
AVE MARÍA

, with  Julia Varley. Odin Teatret, Denmark. Dir. Eugenio Barba

NIEVE

, Teatro delle Radici, Switzerland. Dir. Bruna Gusberti

ENSAYANDO LA VIOLACIÓN

, Sweden. Dir. Petra Wik

KAMIGATA MAI, with Keiin Yoshimura, Japan.


AL FINAL DE LA NOCHE

,  grupo Contraelviento, Ecuador.

TORMENTAS DEL SILENCIO, Fundación Mandrágora, Ecuador. Dir. Susana Nicolalde

TIERRA DE FUEGO,

with Carolina Pizarro, Chile. Dir. Julia Varley

WHAT DO I KNOW ABOUT WAR?

,

Theater for the New City, writted and performed by Margo Lee Sherman, dir Andrea Maddox.

MY LIFE AS A MAN

, with Geddy Aniksdal, Grenland Friteater, Norway

SOMA MNEMOSINE

, Teatro La Candelaria, Colombia. Dir. Patricia Ariza

CUBA Y LA NOCHE

, Estudio Teatral de Santa Clara, Cuba. Dir. Joel Sáez

CASANDRA

, Estudio Teatral de Santa Clara, Cuba. Dir. Joel Sáez

HOJAS DE PAPEL VOLANDO

, Estudio Teatral de Santa Clara, Cuba. Dir. Roxana Pineda

LAS PINTURAS Y OTROS LUGARES

, Aldaba Teatro, Cuba. Dir. Irene Borges

MEDEA SUEÑA CORINTO

, Teatro del Puerto, Cuba. Dir. Milva Benítez

ME SOBRAN LAS ALAS

, Cuba. Dir. Indira García
Conditions of Participation
The call for participants is open and closes December 15, 2013.
The interested artists should send a brief resume in Word format without images.
The mailing address for information and general aspects related to international participation will be buzonadelaida@gmail.com 
The cost of tuition is € 500, it includes the costs of lodging, food, and general participation in all activities of the Festival.
Those who register for the Festival should reach the city of Santa Clara on the 8th of January 2014 during the day. The opening is scheduled for 8:00 pm. The departure is scheduled for the morning of the 19th of January 2014.
The official hosting sites of the festival will be informed by us in advance.
Information on shows, workshops, forums and other activities will be posted on the Magdalena Project website gradually according to received confirmations.
Payment of tuition will be made upon arrival to Santa Clara in hosting sites of each participant.
The address of the principal place of the Festival is Estudio Teatral de Santa Clara Theater: 218 Independence entre Maceo y Unión. Santa Clara. Villa Clara. Cuba.
Phone:

Codes (53) (42) if dialling from abroad if not (042)


Theater: 204038 or 206609.


Mobile:

Codes (53) if dialling from abroad


53764416 (Roxana Pineda)
53703198 (Alejandro / Roxana´s Assistant)
---
Information and documentation about the third Magdalena Sin Fronteras festival (2011), including a video of highlights, is available here.