Voices of Hakka Women

During the epidemic, as a theater person who works with the public every day, I suddenly got a rare and quiet vacation. However, the news I kept reading made me feel frustrated and uneasy about what was happening in the world.

In 2018, when I went to Brazil to participate in Solos Feries, I established a group called HaHaHaKKa Family, which is mostly Latin American female artists in the Magdalena Project who felt an emotional connection with Hakka women in Taiwan.  In July 2021, someone from the group asked me to come up with something that we could do together. So I suggested that we read a poem by Hakka poetess Chang Tian-Wan, Wait a Moment, Dear Sun, in each of our own languages. We read it in English, Malay, Portuguese, Spanish, Italian, Hakka, and Mandarin. When we read the last sentence 'Wait a moment, dear Sun. Wait for me to make a torch, And let me light Mom's and Dad's way home.' everyone was very excited. They felt that their power was positively expanding to every corner of the epidemic-raging world. We felt no longer alone, vulnerable, frustrated and helpless. In an instant we all turned into the little girl holding a torch, trying to bring a glimmer of light to the world with our fragile voices.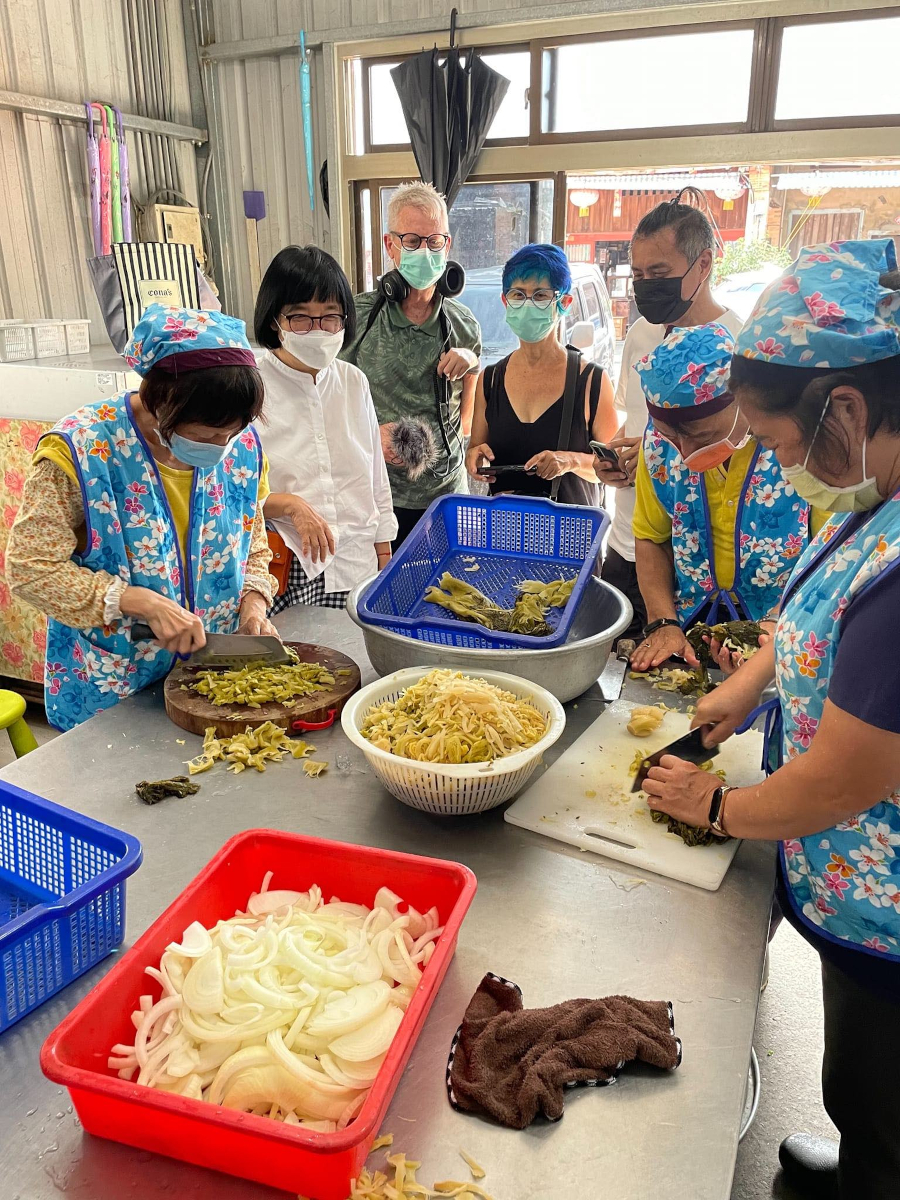 More than 20 years ago, Hakka events only drew Hakka audiences; even the younger generation of Hakka were unwilling to participate. Now the government actively encourages people from different ethnic groups to join in, but most of the participants are Hakka. The Hakka group has always been relatively conservative, and so it has retained many of its original characteristics. So, I wanted to invite more people with different cultural backgrounds to join in to enrich the Hakka culture.
In 2022, I went to Odin Teatret to participate in TRANSIT 10. The old friends hugged each other excitedly. We cherished the moment of meeting and realized the impermanence of tomorrow's world. I was inspired to select poems from six Hakka poetesses Cheng Tien-Wan, Chen Mei Ten, Wang Chun-Chiu, Lin Chu-Yin, Lo Hsiu-Ling, and Ye Sa. Each was translated into English, French, Spanish, Portuguese and Mandarin and I invited more Magdalena women to join in the project to read and record these poems. This included English readers Anna Yen, Jenny Martinelli, Maria Porter, French readers Eleonore Bovon, Brigitte Cirla, Marion Coutarel, Spanish readers Amaranta Osorio, Veronica Moraga, Eugenia Cano, Portuguese readers Rebeca Reis, Natalia Sa, Juliana Zancanaro.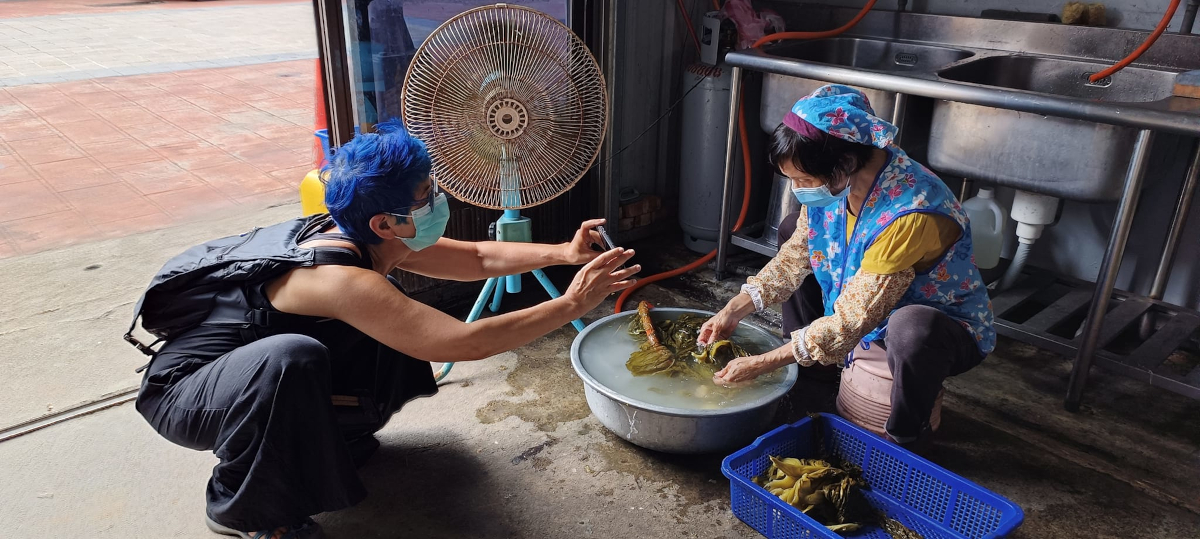 In September 2022, Suzon Fuks and her husband James Cunningham came to Taiwan to film 'Voices of Hakka Women', inspired by these poetry readings. Suzon had already translated 'Dear Sun' into French in 2021, and had begun gathering and editing the actresses' voice recordings before travelling to Taiwan. I took them to visit many Hakka villages, to meet Hakka poetesses and artists, and of course to sample Hakka tea and cuisine.  I remembered my own surprise when visiting Hakka villages in 1995 when I started preparing the story of the Hakka group. I hoped that Suzon and James would represent their own surprise through videos, and that the spark of cultural collision would enrich the traditional colours of Hakka.
Whenever I share Hakka stories wth Magdalenas, they share similar things that they have encountered, such as stories of adopted daughters immigrant backgrounds, objectified female bodies, mothers' dedication to the family, and parent-child interaction conflicts. Through the female Hakka voices, we meet in the dark, we shed our tears in their poems, and in the end, just like in Wait a Moment, Dear Sun, we work hard to gather the light of female artists from all corners of the world to illuminate the murky world with fragile gleams.
By Ya-Ling Peng
Uhan Shii Theatre, Taipei, Taiwan
25 November 2022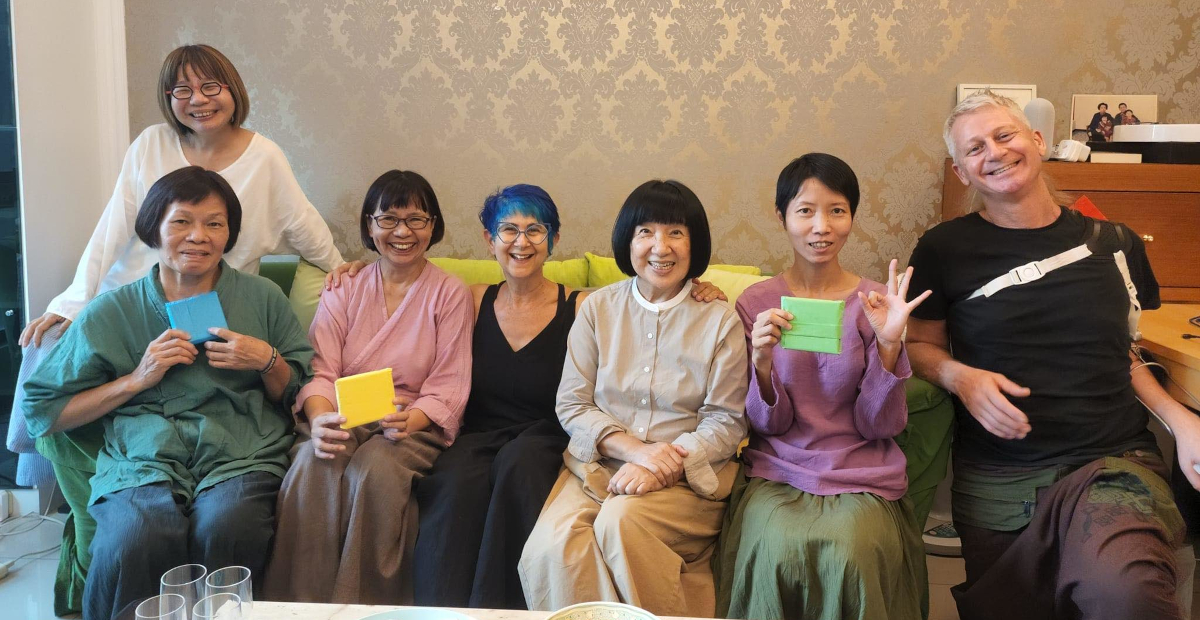 Voices Of Hakka Women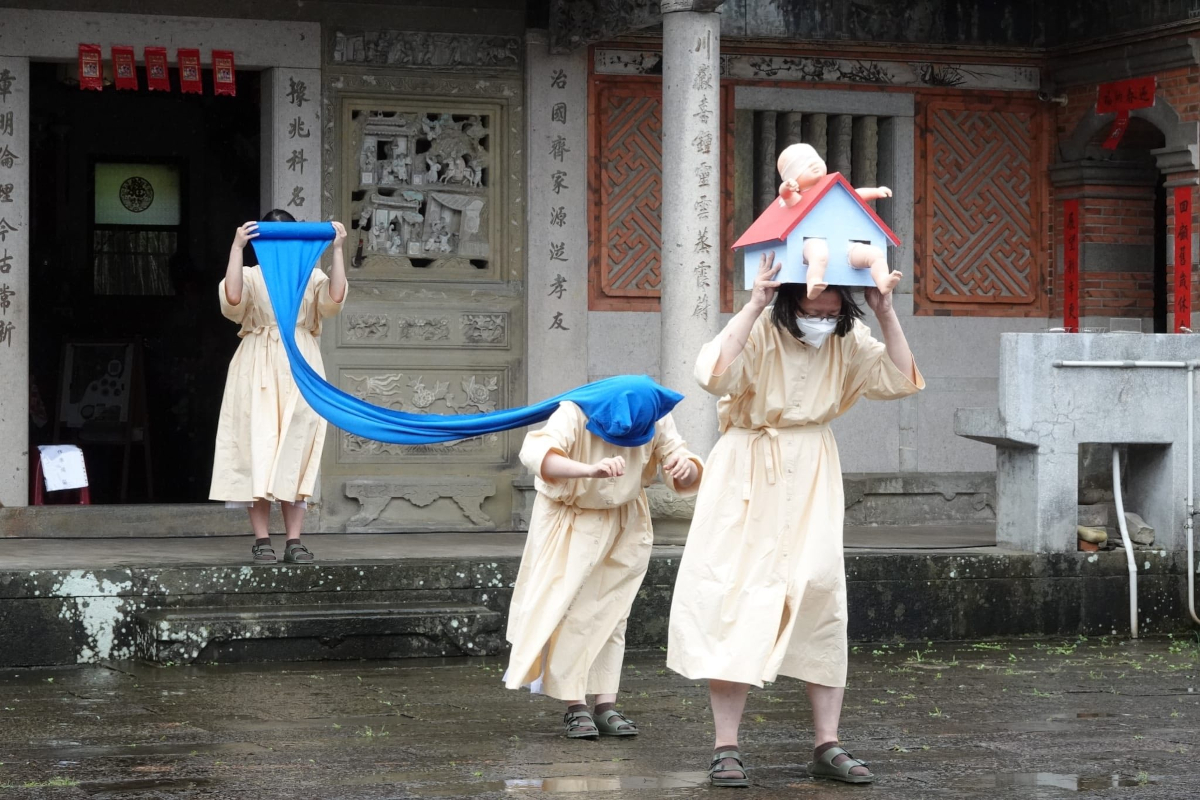 自從疫情開始,做為每天與眾人一起工作的劇場人突然得到難得的安靜假期,然而每天在新聞中閱讀到的消息卻令人對這個世界正在發生的事情感到挫敗與不安,2018年我去巴西參加Solos Férteis Solos 結束後,我們有一個群組叫HaHaHaKKa Family,這個大多是拉丁美洲的女性藝術家在熱誠參與Magdalena Project之餘自認為她們和台灣的客家女人有情感上的連結所設立的群組,2021年七月,在群組裡有人問:雅玲,你來想一個方法來讓我們一起做些什麼,於是我建議我們用自己的語言朗讀客家女詩人張典婉的詩[日頭等一下],當時,我們有英語,馬來西亞語,葡萄牙語,西班牙語,義大利語,客語,華語等的共同朗讀,當我們讀到最後一句[日頭等一下,等我拿一支火把為他們來照路]的時候大家都非常的振奮,尤其這麼多來自世界各地的女人們共同用自己的語言朗讀時更覺得自己的力量正向的擴展到飽受疫情肆虐的各個角落,我們不再孤單,不再脆弱,不再感到挫敗無助,霎時我們都化身成那個提著燈籠的小女孩用自己的脆弱的聲音想要為世界帶來一盞微光。2021年九月,視覺藝術家Suzon Fuks 將這首詩翻譯成法語,於是我邀請她協助拍攝成影片。
二十多年前客家節目只有客家觀眾,甚至年青的隱性的客家人都不願意參與,現在我們政府積極鼓勵下因而有更多的各路人馬加入,但是參與者多半還是客家族群,客家族群一直以來是較保守的,她的優點是因而保留了許多的特色,於是我想邀請更多人,更多元的文化加入讓客家文化更為豐富。
2022年六月,我去Odin Teatret 參加TRANSIT 10,疫情之後再次重逢,老朋友們都激動的相擁在一起,更加珍惜相遇的時刻,更加體悟到明日天涯的無常,因此我們選用了六位客家女詩人Chang Tien Wan, Chen Mei-Yen, Wang Chun-Chiu, Lin Chu-Ying, Lo Hsiu Ling, Ye Sha的詩,每一首詩翻譯成英語,法語,西班牙語,葡萄牙語和華語,邀請更多的Magdalena women 加入客家女詩作的朗讀行列,其中English 朗讀者有Anna Yen, Jenny Martinelli ,Maria Porter, French朗讀者有Eléonore Bovon, Brigitte Cirla, Marion Coutarel, Spanish 朗讀者有Amaranta Osorio, Veronica Moraga, Eugenia Cano, Portuguese 朗讀者有Rebeca Reis, Natália Sá, Juliana Zancanaro.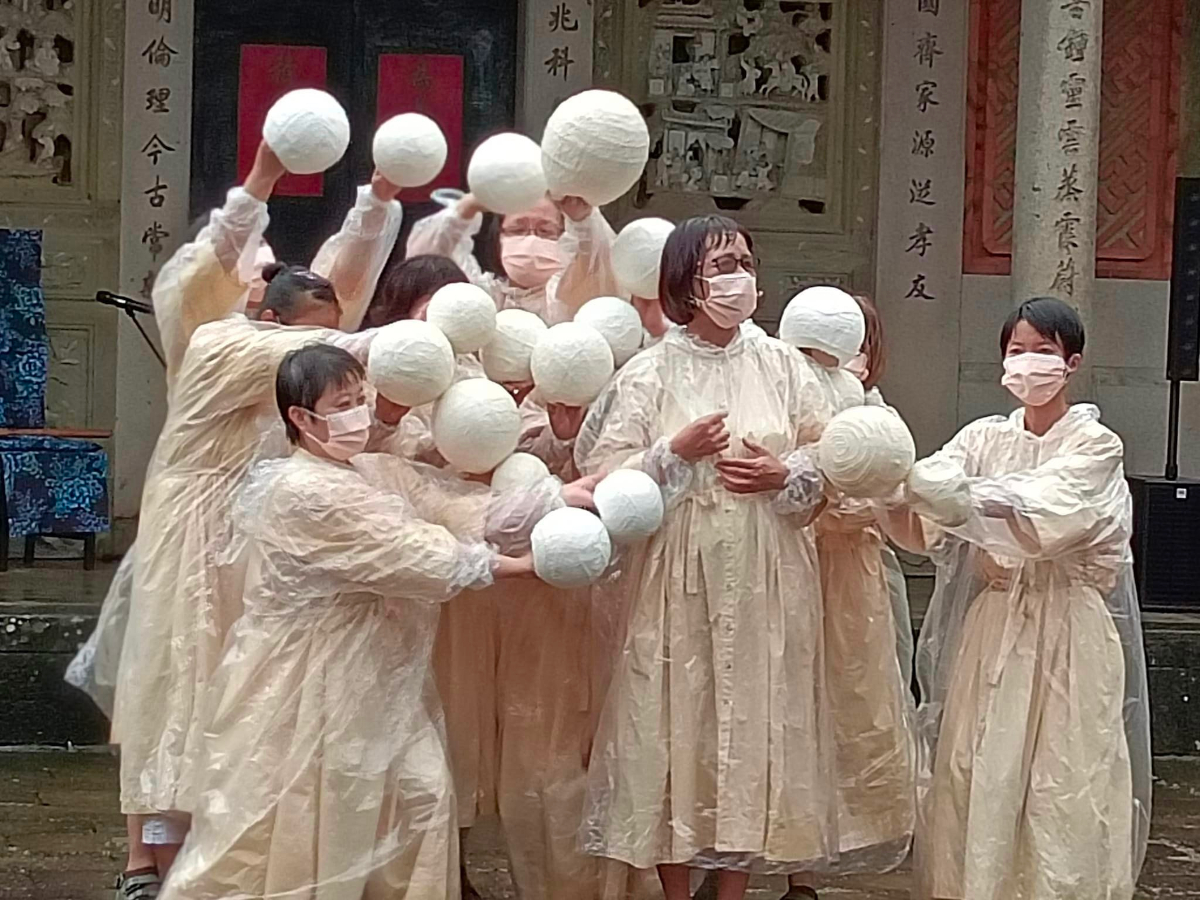 2022年九月, Suzon Fuks and 她先生James Cunningham 來台灣展開為期50天的Voices Of Hakka Women拍攝,我帶她們倆個去拜訪許多客家庄,客家女詩人,客家藝術家,當然還有客家特色的茶與美食,我記得1995年我開始準備做客家族群的故事時開始訪問客家庄的驚豔,我也希望Suzon and James 透過影像將她們的驚喜呈現出來,讓文化衝撞的火花豐富客家傳統的色彩。
奇怪的事情發生了,每當我與Suzon 以及其他Magdalena women 分享故事的時候,她們也分享了她們所遇見的類似的事情,例如養女的故事,例如客家人的移民背景,例如被物化的女性身體,例如母親為家庭的奉獻,例如親子互動的衝突,透過客家女聲,我們在黑暗中相遇,不同國籍的朗讀者在客家女人的詩作中留著自己的眼淚,最後就如張典婉的詩[日頭等一下],我們努力的集結世界各個角落的女性藝術家用脆弱的微光照亮晦暗的世界。
By Ya-Ling Peng
Uhan Shii Theatre, Taipei, Taiwan
25 November 2022