6 April 2014

to

13 April 2014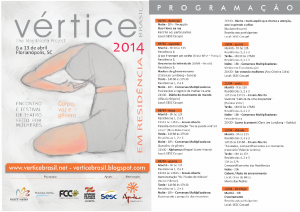 Vértice Brasil in Residence was a special version of the meetings/festivals that we have been promoting every two years. This year, we gathered 60 artists together for a week in order to investigate creative processes related to the themes of Body, Voice and Gender. The workshops were conducted by Clara Lee Lundberg (Sweden), Linda Wise (Pan Theatre - France), and Ana Cristina Colla, Raquel Scotti Hirson, and Naomi Silman (LUME Teatro – Brazil). In addition to residencies with these artists, we had many opportunities for meetings, discussions, and exchange involving such issues as gender, registration and documentation, empowerment of collectives, and performances. The residency format (all day long) permitted us a deeper process of creation and collaboration than we used to have in short workshops format. At the end of the event, we did a cabaret gathering short performances from the participants, conducted by Naomi Silman, a British actress eradicated in Brazil. In the final round people compromised with the creation of small groups of work and exchange in order to enlarge the network. This was an interesting and risky experience (as Jill challenged us to go through). We feel ready to grow up.
Residency 1 - The voice is always a dream - Linda Wise (France)

Before being converted into a musical instrument of control, or a supported modulated language, the voice is a fabulous means of expression and is tied to our innermost impulses.  Each sound must claim its space in our artistic imagination, from an ethereal whisper to a loud scream.  During this residency, training using PANTHEATRE / ROY HART extended records of the voice will be utilized so that sheer expressive focus on melodic singing (songs and improvisation) can take place along with voice placement and how this is acted out in texts.

Residency  2 – Intimacy of daydreams - LUME Teatro (Campinas, SP, Brasil)
 
This residency works with the understanding that our HOME is our own corner of the world and only through it are we able to trace our relationship with the universe. The proposed theme will be combined with technical training elements designed by Lume Theatre. The elements of action, space, and time all combine to allow for the actor´s creative potential to flourish.  These elements will be further stimulated using the HOME theme as a nest and place of belonging.  Drawers, cupboards, shelves, secrets, memories, and everything that relates to the micro or macro HOME and metaphorical universe will be present at this residency.

Residency 3  Gender Hackers on the scene – Laboratory Genderhackers - Clara Lee Lundberg (Sweden)

In this residency let's transform into "hackers of gender" and explore the potential of the political body.  With focus on experimenting with performances of gender, let's research and challenge expressions like "femininity" and "masculinity" and create a critical space for reflection and action.  Using the book "Testo Yonki" by Beatriz Preciado as a theoretical basis of reflection that addresses themes like queer, gender, and performativity and transgender, this residency proposes to work with devices like dragking/dragqueen techniques, radical contact improvisation, Feminist pornography, crossdressing, fight, boxing, improvisations of action and movement. Scientifically based theoretical discussions with an intent to deconstruct the "truths" about our "feminine" bodies will be proposed permitting us to transit into new psychological and bodily states, extrapolating socially established gender roles.
For more info go to www.verticebrasil.net