International Festival of Women in Theater
10 September 2012

to

16 September 2012
Monologues and Solo Performances Festival
 What women are creating in theater? Who wants to find out, come! It's with a enormous joy that we invite all to the second edition of
SOLOS FÉRTEIS - International Festival of Women in Theater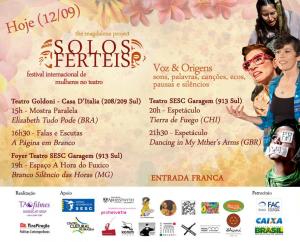 September 10-16. Brasília will be the stage of an intense and diverted schedule, with performances, workshops*, work demonstrations, round tables, bazar, book launches. And everything with complimentary tickets!
international festival of women in theater
Monologues and Performances Solo
September, 10-16 2012 - Brasília/Brasil
Theme of this editions VOICE & ORIGINS - Sounds, words, songs, echos, pauses & silences
Performances at 8 p.m. and at 9:30 p.m. + daily schedule 
Check the whole programme at the website: www.solosferteis.com.br
*workshops are restricted to participant selected previously.