The first Magdalena Sin Fronteras (Without Borders) festival was organised by the Theatre Research Center Odiseo and Theatre Studio Santa Clara, Cuba; it ran for ten days, from 8-18 January 2005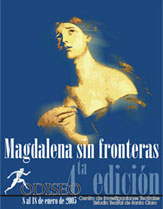 Borders delimit geographical spaces; they separate pieces of land inhabited by different women. Borders can also exist in non-physical spaces, and Magdalena Without Borders wants to confront these limits, to break restricted physical and mental spaces of our independence and gather a group of women in theatre. Magdalena Without Borders invites women to share their experiences in their work.

Magdalena Without Borders took place in Santa Clara, with workshops, performances, lectures, working demonstrations and exchange of experiences. Participating artists included: Geddy Aniksdal, Grenland Friteater (Norway); Brigitte Cirla, Voix Poliphoniques (France); Cristina Castrillo, Teatro delle Radici (Switzerland); Jill Greenhalgh (Wales); Ana Correa, Yuyachkani (Peru); María Ficara, Teatro Proskenion (Italy); Déborah Hunt, Proyecto Maskhunt (Puerto Rico); Julia Varley, Odin Teatret (Denmark); Patricia Ariza, Teatro La Candelaria (Colombia); Graciela E. Rodríguez (Argentina); Ana Woolf (Argentina); and Cuban theatre makers.

More information:?Roxana Pineda rosa@cenit.cult.cu?
Sede de Estudio Teatral: Independencia 218 entre Maceo y Unión.
Santa Clara.Villa Clara. Cuba.?Tél: +5342 204038 or +5342214769
Documentation: