"I need to say ... | Her Secret"
Scroll down for English.
Liebe Magdalena-Frauen
Ich bin jetzt in Rente!! Offiziell!! Sehr merkwürdig. Ich MUSS nichts mehr tun, keine Projekte erträumen, Tag und Nacht daran arbeiten bis die Träume Realität geworden sind und nicht mehr die Welt kurz anheben … Ich KÖNNTE die nun vor mir liegende Zeit genießen und nur noch die Dinge tun, die mir SPASS machen … Aber da liegt das Dilemma. Nichts macht mir mehr Spaß, als Projekte zu erträumen, Tag und Nacht daran arbeiten bis die Träume Realität geworden sind und die Welt kurz anheben …
"Unsichtbare Orte", das ist ein Thema, das mich schon lange Zeit beschäftigt. Genauer gesagt seit Mitte der 90er Jahre, als ich mit unserem Verein Unter Wasser fliegen e. V. in Kooperation mit dem Magdalena Project Wales ein großes internationales Frauen-Theatertreffen "Bridges back tot he Roots – Theater mit Menschen in sozialer und kultureller Ausgrenzung" organisiert habe. Die erste Performance-Installation "Unsichtbare Stadt" ist so entstanden.
Danach habe ich begonnen Unsichtbaren Orte mit gefährdeten Jugendlichen und Menschen im Justizvollzug zu erkunden. Gefängnisse sind Orte vielfacher Tabuisierung. Sie stehen außerhalb der Gesellschaft und der öffentlichen Auseinandersetzung. Zwischen 2007 und 2017 sind viele Performance-Installationen mit unterschiedlichen thematischen Schwerpunkten entstanden und präsentiert worden, drin wie draußen, in Deutschland, Europa und Lateinamerika.
Die sogenannte Flüchtlingswelle Ende 2016 brachte mich zu einem neuen Unsichtbaren Ort (in Open Page habe ich darüber geschrieben): Zusammen mit einer Gruppe junger, mehrheitlich aus Afghanistan geflüchteten Menschen, die meisten von ihnen mussten ihre Heimat unbegleitet und noch minderjährig verlassen, haben wir bis jetzt insgesamt vier künstlerische Projekte realisiert, die sich mit ihrer Geschichte und ihren Erfahrungen in einer neue, für sie fremde Kultur beschäftigten. Zurzeit arbeiten wir an einer interaktiven Webseite, die die Ergebnisse der Arbeiten (Videos, Interviews, Bilder, Kollagen, Lyrik, Sounds, Texte, Fotografien), ergänzt durch Projektdokumentationen und aktuelle Statements, digital erlebbar macht.
Und ein Unsichtbarer Ort, der immer im Hintergrund gewirkt hat, mich sehr bewegt und mich schon seit Beginn meines "Magdalena Daseins" antreibt, ist Thema "Frauen in der Kunst".
2018 während meiner Residenz in der Villa Waldberta im Rahmen von Magdalena München durfte ich mich mit diesem Thema beschäftigen. Das Ergebnis war die Multimedia Installation mit Live-Performances & Ausstellung "Ich sehe was, das du nicht siehst…". Mit Bild-, Ton- und Klanginstallationen, Texten sowie Foto- und Objektarbeiten zeigten hier Künstlerinnen Ergebnisse ihrer Auseinandersetzung mit dem Thema Unsichtbarkeit.
An diesem Thema möchte ich weiterarbeiten und euch, Künstlerkolleginnen und Magdalena-Frauen und aus aller Welt einladen, euch an diesem On-going-Projekt zu beteiligen. Meldet euch (kulturdialog [at] augenhoehe.de), wenn ihr Lust habt, unter dem Arbeitstitel "I need to say..| Her Secret" etwas Unsichtbares in künstlerischer Form ans Licht zu bringen. Erste Ergebnisse könnten schon in einer Installation beim Internationalen Frauen Theaterfestival in Frankfurt (26.09.-02.10.2022) gezeigt werden.
Wie ich schon sagte: Nichts macht mir mehr Spaß, als solch ein Projekt zu erträumen, Tag und Nacht daran zu arbeiten bis der Traum Realität geworden ist und die Welt kurz anzuheben…
Kordula Lobeck de Fabris
Juli 2022
Dear Magdalenas!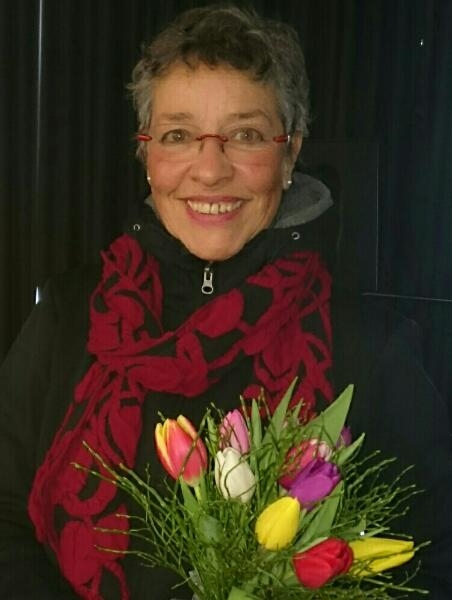 I'm retired now!! Officially!! Very strange. I DON'T HAVE to do anything anymore, dream up projects, work day and night until the dreams come true and no longer raise the world for a moment ... I COULD enjoy the time that's ahead of me and just do the things I FUN... But there lies the dilemma. Nothing pleases me more than dreaming up projects, working on them day and night until the dreams become reality and lifting the world for a moment ...
"Invisible Spaces" is a topic that has occupied me for a long time. To be more precise, since the mid-1990s, when I organized with our association Unter Wasser fliegen e. V. in cooperation with the Magdalena Project Wales the international women's theatre meeting "Bridges back to the Roots - Theatre with people in social and cultural exclusion". This is how the first performance installation "Invisible City" came about.
After that I started with youngsters at risk and people in prison exploring their Invisible Spaces. Prisons are places of multiple taboos. They stand outside of society and the public debate. Between 2007 and 2017, many performance installations with different thematic focuses were created and presented, both indoors and outdoors, in Germany, Europe and Latin America.
The so-called wave of refugees of 2016 brought me to a new Invisible Spaces (I wrote about it in The Open Page): Together with a group of young people from Afghanistan, most of whom had to leave their homeland unaccompanied and were still minors, we have realized a total of four artistic projects that deal with their history and their experiences in the new world. We are currently working on an interactive website that will make the results of the work (videos, interviews, images, collages, lyrics, sounds, texts, photographs) digitally visible.
And one Invisible Space that always worked in the background, that moves me a lot and has been driving me since the beginning of my "Magdalena existence", is the topic "Women in the Arts". In 2018, during my residency at Villa Waldberta as part of Magdalena München, I was allowed to work with this topic. The result was a multimedia installation with live performances & exhibition "I see something you don't see...". With image-, voice- and sound-installations, texts as well as photo and object-works, women artists showed the results of the research of their Invisible Spaces.
I would like to continue working on this topic and invite you Magdalena women and fellow artists from all over the world to participate in this ongoing project. Get in touch (email kulturdialog [at] augenhoehe.de) if you want to artistically bring something invisible to light. The working title is "I need to say..| Her Secret". The first results may already be shown in an installation at the International Women's Theatre Festival in Frankfurt 26.09.-02.10.2022.
As I said before: nothing gives me more fun than dreaming up such a project, working day and night until the dream becomes reality and lifting the world up for a moment ...
Kordula Lobeck de Fabris
July 2022