9 November 2017

to

12 November 2017
Venue:
Theater Antagon, Frankfurt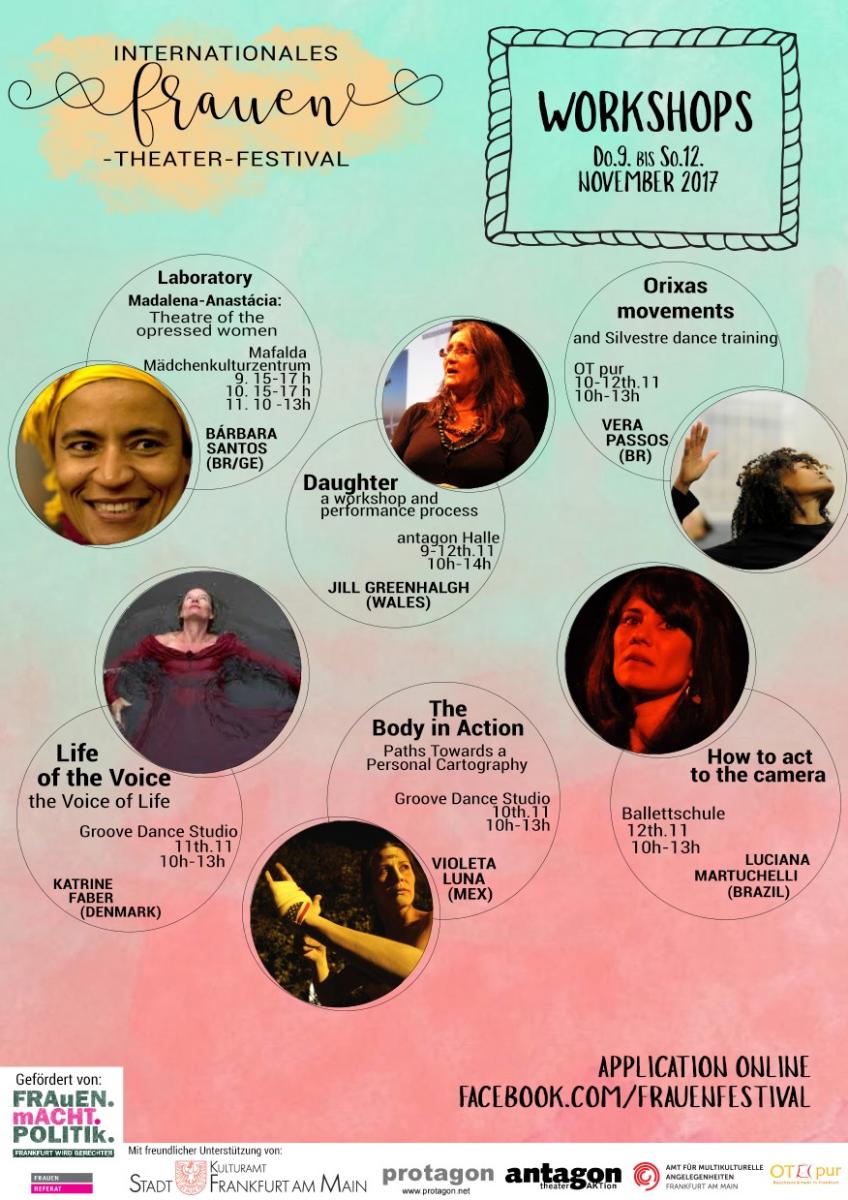 Liebe Freund*innen,
nach langer Vorbereitungszeit und vielen interessanten Gesprächen mit (inter-)nationalen Künstler*innen präsentieren wir das erste Internationale Frauen-Theater-Festival in Frankfurt am Main. Wir wünschen uns neue Impulse in der Theaterszene und in der Stadt und freuen uns auf Euch. Lasst uns diese Zeit gemeinsam feiern!
Offizielle Einladung:
In vier Wochen veranstaltet protagon e.V. mit Unterstützung des Frankfurter Frauenreferates und Künstlerinnen des Teams vom antagon-Ensemble das erste Frauen- Theater- Festival in Frankfurt. Die Veranstaltung ist Teil des weltweiten Netzwerkes "The Magdalena Project", das seit 30 Jahren Treffen theaterinteressierter Frauen organisiert.
Wir laden Sie / Dich und Euch herzlich ein, an einem der Workshops (nur für Frauen) oder bei den Foren (für alle) teilzunehmen, zu den Performances und den Theateraufführungen zu freiem Eintritt kommen!
Wann? Donnerstag, 9.11.2017 bis Sonntag, 12.11.2017
Wo? antagon Halle, Orber Str. 57, 60386 Frankfurt
Was bedeutet es, zu ihrer Stärke zu stehen, wenn noch immer der Stempel des "schwachen Geschlechtes" kursiert? Wie erleben Mädchen und Frauen, auf der Bühne, mit Darstellender Kunst und im weiten politischen Raum ihr weibliches Selbstverständnis in einer multikulturellen Welt? Das bevorstehende Frauen-Theater-Festival in Frankfurt am Main bietet mögliche Antworten. Der internationale Austausch unter Frauen im Theater schafft Räume, in denen sie zeigen, was sie als darstellende Künstlerinnen tun und wie ihre Standpunkte sind. Gleichzeitig sind auch Frauen angesprochen, die nicht vom Theater kommen, ihre Erfahrungen einbringen und an innovativen Prozessen teilhaben möchten. Das Festival gibt Impulse und schafft Perspektiven für eine kreative Plattform, die als jährlich wiederkehrende Veranstaltung in Frankfurt am Main entstehen soll.
Frauen aus Brasilien, Dänemark, Mexiko und vielen anderen Ländern werden zeigen ihre künstlerischen Arbeiten und geben Workshops, und von Freitag (10.11.) bis Sonntag (12.11.) täglich jeweils ein öffentliches Forum anleiten. Interessierte sind herzlich eingeladen, die Teilnahme zu Foren und Aufführungen ist kostenfrei. (Platztickets solange der Vorrat reicht)
Aktuelle Infos gibt es hier: https://www.facebook.com/frauenfestival/
Anmeldung zu den Workshops & Kosten unter:  https://goo.gl/forms/d4lmjAe7J1Dhc9AQ2
Ein Festival von Frauen für alle!
Organisation: Barbara Carvalho

Protagon e.V.
Orber Strasse 57 
D-60386 Frankfurt/Main
Phone    +49 (0) 69 41 70 41
Mobile:  +49 (0) 178 388 7155
Fax   +49 (0) 69 94 14 77 19 
frauenfestival@gmail.com

http://www.antagon.de
http://www.protagon.net
//////////               //////////               //////////                //////////

Dear friends,
after a long preparation time and many interesting conversations with (inter-)national artists we proudly present the first International Women-Theatre-Festival in Frankfurt am Main. We hope for new impulses for the theatre scene and in our city and we're looking forward to you! Let us celebrate this time together!
In four weeks, protagon e.V. is hosting the first International Women-Theatre- Festival in Frankfurt, with support of the women´s department from Frankfurt and artists from the antagon- ensemble. The event is part of the worldwide network "The Magdalena Project", which is organising meetings for 30 years to women who are interested in theatre.
We invite you warmly to participate in a workshop (only for women) or/and forum and to see performances and theatre plays (for everybody). The entrance is free!
When? Thursday, 9.11.2017 to Sunday, 12.11.2017
Where? Antagon Halle, Orber Str.57, 60386 Frankfurt
What does it mean to stand by your own strength while there circulates the brand of the "weaker sex"? How do women and girls experience their feminine self-image within a multicultural world through performing arts? And how do we place this image inside a wide political field? The upcoming Women-Theatre-Festival in Frankfurt offers possible answers. The international exchange between women in theatre creates a space, in which they can present their work and point of view. At the same time, we address women without a theatre background to share their experiences and participate in an innovative processes. The festival stimulates and creates new perspectives for a creative platform and event, that is planned to take place annually in Frankfurt am Main in the future.
Women from Brazil, Denmark, Mexico and many other countries will present their artistic work and offer workshops. From Friday (10.11) till Sunday (12.11.) there´ll take place an official forum. Interested individuals are warmly welcome. The participation in forums and performances is free of cost! (Tickets as long as stocks last)
Current information: facebook.com/frauenfestival
Registration for the workshops and costs: goo.gl/forms/d4lmjAe7J1Dhc9AQ2
A festival from women for everybody!
Organisation: Barbara Carvalho

Protagon e.V.
Orber Strasse 57 
D-60386 Frankfurt/Main
Phone    +49 (0) 69 41 70 41
Mobile:  +49 (0) 178 388 7155
Fax   +49 (0) 69 94 14 77 19 
frauenfestival@gmail.com

http://www.antagon.de
http://www.protagon.net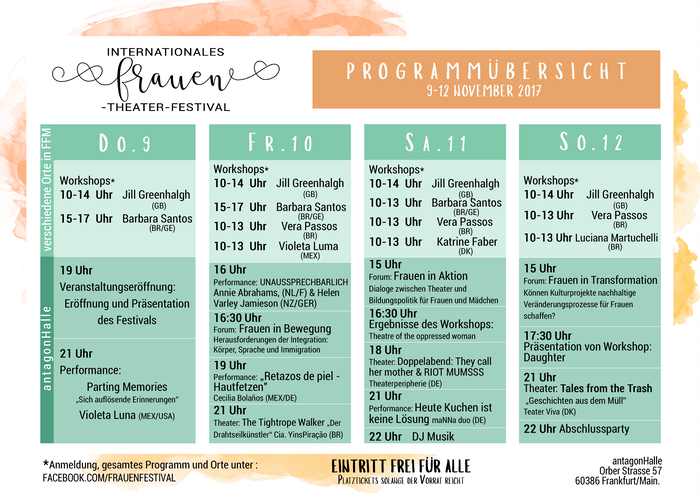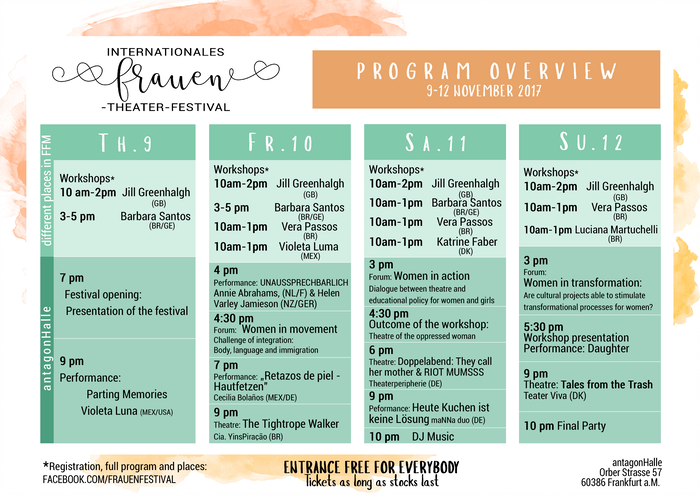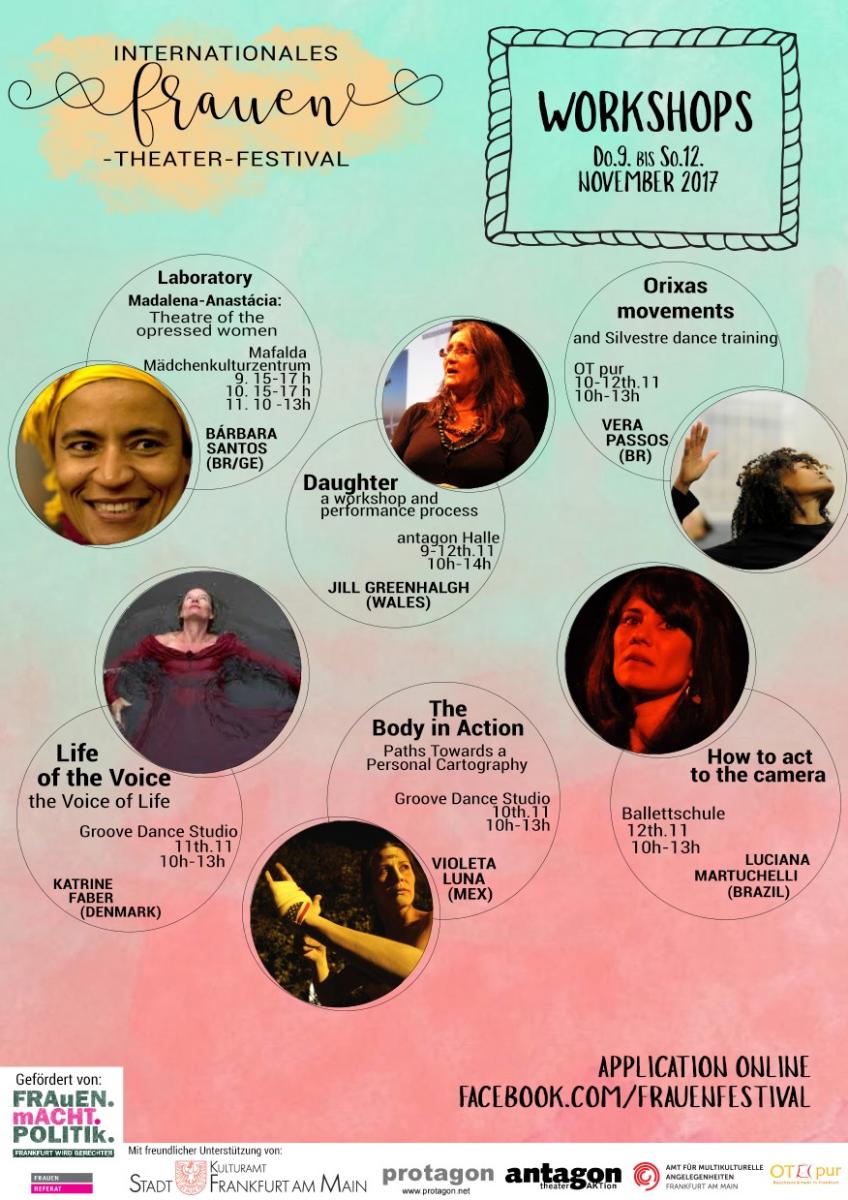 Organisation: Barbara Carvalho
antagon theaterAKTion
Orber Strasse 57 
D-60386 Frankfurt/Main
Phone    +49 (0) 69 41 70 41
Mobile:  +49 (0) 178 388 7155
Fax   +49 (0) 69 94 14 77 19 
office@antagon.de 

http://www.antagon.de
http://www.protagon.net