Feminism (inter) generational
7th Internationes Frauen* Theater Festival
18 September 2023

to

24 September 2023
Welcome to the 7. International Womxn's Theatre Festival in Germany
18. – 24.09.2023
We are happy to invite you all to the International Womxn's Theatre Festival (IF*TF) in Frankfurt am Main! At IF*TF 2023, which will take place for the 7th year in a row in Hessen. We want to raise the question of the importance of generation in feminist work. The aim is not to open up a duality between the old and the new, but to open up a space between times and to recognize that we as human beings have always been in relationships across generations.
In Frankfurt am Main, Germany, we work intersectionally inspired by the Magdalena Project network and this year we are working with theme of "FEMINISM (INTER) GENERATIONAL". Together with international artists from theatre, performance, video, visual arts and music, we are looking for moments of intergenerational dialogue that are radical and utopian. That heal, inspire and reshape artistic work into a form where womxn's work is more recognized.
From the Magdalena network we have performances and workshops from Jill Greenhalgh, Parvathy Baul, Viviana Bovino and other incredible feminist artists. Check out the workshops program and if you need accommodation, we can offer full board and lodging at our association for a small fee. We also have assistance for artists taking part in the workshops with children. Link to apply: https://iftf-frankfurt.com/en/program-workshops/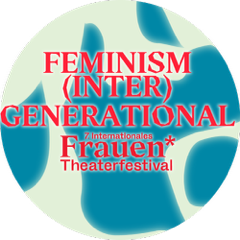 At IF*TF 2023, you are invited to ask questions, participate in performances and develop futures for the theatre stages!
As independent artists, everything for us revolves around creativity, formability and change. That's why the questions of transformation and revolution are always part of our work.
Within the work of protagon e.V., IF*TF 2023 focuses on the positioning of womxn in the world in a cross-generational, feminist dialogue between theatre and politics. Since its beginning, the festival has been working on the visibility of womxn in the performing arts, offers a platform for this debate and wants to be a space for the practice of this process in the future.
I wish us all a powerful and sustainable festival!
In solidarity,
Bárbara Luci Carvalho
Artistic Director, IFTF
and the IF*TF team
Find more information here: https://iftf-frankfurt.com/en/programm-preview/