Cristina Castrillo wins the Swiss Theatre Award 2014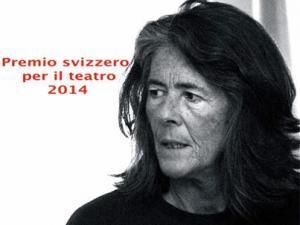 Cristina Castrillo won the Swiss Theatre Award 2014 assigned by the Swiss Cultural Office. This important award is given to institutions and /or person who has greatly contributed to the development and growth of the theatrical art in Switzerland.
° the award ceremony took place on May 22, opening day of the First Meeting of the Swiss Theatre in Winterthur.
Cristina Castrillo ha ricevuto il Premio Svizzero per il Teatro 2014 assegnato dall' Ufficio Federale della Cultura. Questo importante riconoscimento viene conferito a quelle istituzione e/o persone che abbiano contribuito notevolmente allo sviluppo e alla crescita dell' arte teatrale in Svizzera.
° la premiazione ha avuto luogo il 22 di maggio, giorno dell'inaugurazione del I° Incontro di Teatro Svizzero a Winterthur.

Cristina Castrillo ha recibido el Premio Suizo por el Teatro 2014 otorgado por el Consejo Federal de Cultura. Este importante reconocimiento es conferido a instituciones y/o personas que hayan contribuido notablemente al desarrollo y al crecimiento del arte teatral en Suiza.
° la premiación fue realizada el 22 de mayo, día de la inauguración del I° Encuentro de Teatro Suizo en Winterthur.