A busy November for The Magdalena Project
November 2017 has been a busy period for The Magdalena Project: four festivals happening at the same time in Argentina, in Germany, in Italy and in Brazil. Roads crossing in every direction, women meeting across the continents, and preparing for many more events to take place. It is always a great pleasure for me to be able to join friends on the other side of the world.
I met Luciana Martuchelli, Amaranta Osorio, Meg Ella, Verónica Moraga and Antonieta Muñoz and other women at Odin Teatret in Holstebro as they were working with Jill Greenhalgh and Suzon Fuks for The Book of Space. I saw their rehearsal the same day we launched the new Open Page Publications' book Future Conditional – Notes for Tomorrow, with Gilly Adams, Geddy Aniksdal and Maggie B. Gale (from her bed in Manchester as she had flu). Suzon made a streaming on Facebook filming the moment in which we literally launched the book by throwing it to the audience. Teresa Ralli who saw this in Peru asked me to throw the book to her in the same way when I met her in Ecuador a month later. During the rehearsal I admired the projections and the commitment of all the women, and how Jill and Suzon were developing ideas and images they had worked on before in Australia and at Transit in Denmark. I also experienced the beginning of the moment of crisis that always arrives when the process starts veering towards a result.
Then I met Ana Woolf, Natalia Marcet, Natalia Tesone and all their Magdalena Segunda Generación colleagues in Pinamar in Argentina, where Ana Woolf and I had to lead a parade in single line that included Amaranta Osorio, Ya-ling Peng, Brigitte Cirla, Éléonore Bovon, Lucia Sander, Verónica Moraga, Antonieta Muñoz, Isa Soarez and lots of other women while Suzon Fuks looked at us through her camera. We were all dressed in red and white and some spectators thought we belonged to a religious sect, but our songs and music where happier as we conquered the streets, balconies, hills, lakes and gardens. We struggled to be punctual in a busy schedule, at times escaping to the beach, but mostly sharing enthusiasm as we rushed from one venue to the other. It was nice to see how Natalia Tesone and Luiza Bitencourt were challenging themselves with new tasks, ready to turn the second and third Magdalena generation into a leading force of responsibility.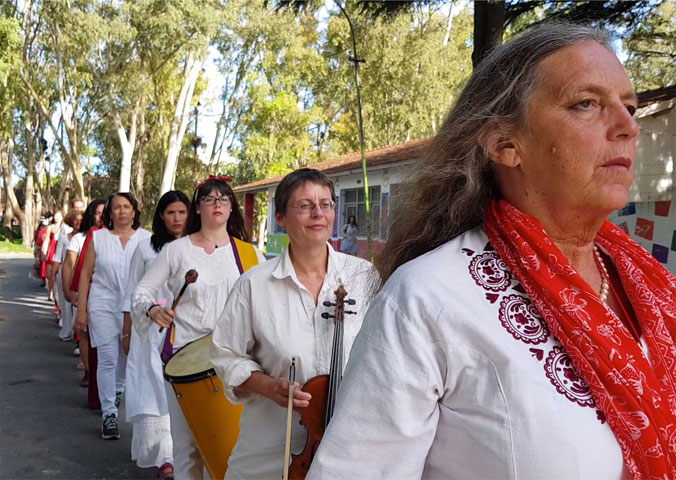 In Ecuador I organised a Magdalena meeting during the international theatre festival in Loja which we called Ser Actriz (to be an actress). Verónica Falconí and Carolina Pizarro spoke and were then joined by all the women present sitting in a round; some very young, others of my age, all with a need to share. Themes touched on presence and invisibility. I also talked about the Magdalena Festival organised by Susana Nicolalde in Quito and announced that she is preparing a new one for next year. Just a few days before I had given a bird salute at the opening of her photo exhibition while Susana distributed white roses of thanks. Among the photos I discovered a poet called Violeta Luna, who I had thought was 'our' Mexican Magdalena. Susana told me about the Mujeres en Escena por la Paz organised by Patricia Ariza, where she had been in August with Geddy Aniksdal, Ana Woolf and Luciana Martuchelli, among others.
I met Luciana Martuchelli again in Brasilia in December. She told me about the festival in Frankfurt organised by Bárbara Carvalho that Jill Greenhalgh had also written to me about urging me to invite Bárbara Santos who she had met there to the next Transit in 2019. Luciana is preparing her Solos Férteis festival for the end of July 2018, thinking of cooking and including themes of new masculinities. Jill Greenhalgh has said she is willing to work on an edition of Daughter with all men performers, a performance Luciana had already presented in Bogotá at Patricia Ariza's festival. We discussed the programme trying to choose among the many women that Luciana would like to invite and involving all the different Magdalenas existing in Brazil, at the same time as trying to find time to work together on Luciana's own solo, Mare Serenitatis.
A recurrent discussion in all these meetings with friends who are organising, producing, writing, teaching and directing has been how to defend the actress's time. The only solution I have come up with is that the first activity of the day is to go into the working space and pretend that everything else can wait. Including writing for the website!
A big hug to all,
Julia Varley