Voice Performance & Music
3 March 2014

to

14 March 2014
A performance-oriented workshop emphasizing the performance aspects of the voice in its relation to music, musical composition as well as stage presence and mobility.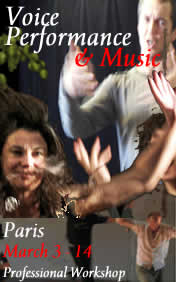 Directed by: Linda Wise
in collaboration with: Enrique Pardo (voice performance, acting, movement & stage presence); Pierre-François Blanchard (composition & piano accompaniment); Saso Volmaier (pianist composer); Daniela Molina (movement) and other PANTHEATRE ACTS collaborators.
The workshop includes music sung on stage, off stage, as well as singing with recorded music, with instruments, etc. It will include composers, musicians, choreographers and theatre directors who collaborate and/or study with Pantheatre. They will be invited to take part, contribute ideas and direct sessions.
This is a professional workshop in its demands and attitude. It is not limited to professional musicians nor to physical performers, though it brings the two together through voice performance work.
More information: http://www.pantheatre.com/gb/2-Mu-gb.html