25 May 2012

to

27 May 2012
Venue:
Gosse St Park, Eastside, Alice Springs
red shoes performance-makers and Brown's Mart productions present Under Today
Under Today is the latest work of local performance-maker Dani Powell and artistic collaborators. The performance, which was previewed in 2009, includes large-scale video projections, dance, and a soundscape composed of previously unrecorded stories of the Indigenous and non-Indigenous community who have lived Eastside of the Todd River. 
Under Today will be performed over three nights in May at the foot of Spencer Hill, where the sloping sides and basin of the Gosse St drain become performance planes and video projection surfaces.
This is the edge of the urban grid where the tensions between the built and natural environment are perhaps most keenly felt: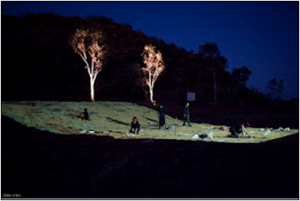 'People used to get upset about the sites being destroyed by the houses getting built. Nobody listened to them because they thought they were just making up site as they went along.' 
Under Today traces the points of tension, connection and loss in this place:
'Eastside was never eastside in those days – our people used to come and camp … stay there in humpies… we used to sleep outside all lined up all us kids and all the grandmothers. They'd tell us stories about the stars and the moon… tell us the little bit of history, of what they'd been through.'
Under Today is a documentary of the Eastside of the river made up of a series of layered stories, of voices that intersect, contradict and coexist in unexpected ways:
'The Italian people, I think we are very funny people. Like the Romans. You know they build and then they destroy… I think Ciccone's idea here maybe he thought he was building the Collosium. That's what he did here... He used the last inch of his land. He built right on the footpath.'
Under Today is a development of a collaborative work by performance-maker Dani Powell, Alice Springs, and media artist Alexandra Gillespie, Canberra, performed in Goyder Street Lane, Eastside for Shifting Ground (Art, Land, Culture, May 2007).  The work was developed in 2009 with the assistance of the Sidney Myer Fund, Arts NT and the Alice Springs Town Council and previewed on site in October that year. This production has been produced by Brown's Mart and funded by the Australia Council for the Arts, Arts NT and the Alice Springs Town Council.
EVENT INFORMATION

 

Venue

Event Sponsors

Audience meet at Gosse St Park, Eastside

Australia Council, Arts NT, Alice Springs Town Council, Brown's Mart, Araluen Arts Centre, Red Hot Arts Central Australia

Time & dates

5.30pm

25, 26, 27 May 2012

Bookings

More information

Tickets presale only from Araluen Arts Centre
08 8951 1122

Please contact Production Manager Scott Large Phone: 0414 606 710 
Email: scottjlarge@gmail.com

Related Web Sites:
red shoes blog
http://redshoes-alicesprings.blogspot.com/  

Alexandra Gillespie website www.alexandragillespie.net/undertoday.html