The second Transit Festival, "Theatre - Women - Politics", took place at Odin Teatret, Holstebro, Denmark, , 5-9 November 1997.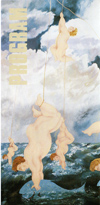 This festival was an occasion to continue the debate started within The Magdalena Project on theatre, women and politics. To keep on doing theatre is in itself a political choice: opting for human relationships rather than mechanical, for intimacy rather than mass media, for memory and resistance rather than neglect and success. Politics has very different meanings across time and geography, and the meaning is constantly changing. Politics can quickly be related to power: a way to keep in power, or a way to criticise, overthrow, counterbalance and take power, or a way to live, survive and deal with power, or a way of separating from power and refusing. Women in the world are now feeling a greater political responsibility and are making a point of having their opinions heard. In theatre women create performances which take position, denounce or inform; women give new importance to the contents of shows and they have a strong participation in social movements and activities. For a long time the form was the content and the stress for change and development was on how to make theatre, now it seems that many women are pointing towards giving more consideration to what is said with theatre and where they place their work.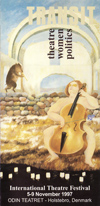 This Festival was an occasion to meet theatre women practitioners, artists, intellectuals and scholars who in different ways are politically or socially engaged, therefore aiming to give theatre an active role in society. The presentation of performances, the lecture-demonstrations and discussions gave a vision of the diverse and personal paths followed while trying to understand the motives behind and the consequences on the craft. The programme included practical sessions with Rap, Breakdance, Group Work and Physical Training, and 1000 Voices singing sessions every morning.
Julia Varley
During five days 14 performances and 11 debates were presented by: ODIN TEATRET, Denmark; THE MAGDALENA PROJECT, Wales; GILLA CREMER, Germany; CIRQUE DIVERS, Belgium; TEATRO DELLE ALBE - RAVENNA TEATRO, Italy; GRENLAND FRITEATER, Norway; GOTAS DE RAP - GRUPO RAPSODA, Colombia; OJIWA THEATRE, Ivory Coast; DAH TEATAR, Yugoslavia; POL PELLETTIER COMPAGNIE, Canada; TEATRET OM, Denmark; TEATRO DELLE ALBE - GUEDIAWAYE THEATRE, Italy-Senegal; DONATELLA MASSIMILLA, Italy; LENE THIESEN, Denmark; TANITH NOBLE, France; KODULA LOBECK, Germany; BRIGITTE CIRLA, France; CHRIS FRY, Wales.
Photos: on this web site (missing) and on the Odin Teatret web site.
Documentation: