Tantidhatri - a Magdalena in India
I am in Pondicherry, India for the Tantidhatri festival - the first Magdalena festival in India, organised by Parvathy Baul (with an incredible army of volunteers). The festival has finished & I'm indulging in a week of holiday here - although "holiday" also means clearing my email backlog and dealing with lots of photos taken by myself and others during the festival; you can see the growing gallery of images here. At left is the huge Tantidhatri poster, outside Aurodhan Gallery which was the festival headquarters.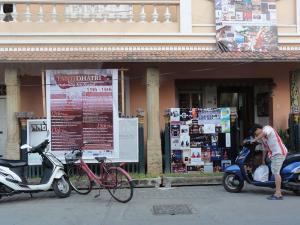 Kiwis have been well-represented here - as well as myself, in the programme with the networked performance make-shift, there were three participants from New Zealand: Prue Langbein, Deborah Rea and Lisa Norris. So it was nice to be able to connect, albeit briefly, as the participants were all staying in Auroville - where the workshops, talks and some of the performances were held - while the artists were staying in Pondicherry. I was one of the few artists not giving a workshop, which meant that I spent more time in Pondicherry than Auroville, so I missed meeting many of the participants.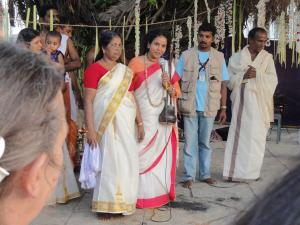 Like any good Magdalena festival, the programme was full to bursting, and we were forced to make difficult choices about which performances to attend. Often it was dictated by distance - it wasn't possible to get to performances in both Pondicherry and Auroville in the same evening, so if you really wanted to see one in either place, that meant you saw whatever else was on in that place. And having seen many of the Magdalena artists before, when I had to make a choice I went for the Indian performances, and Keiin Yoshimura from Japan, as it's less likely I'll have the opportunity to see them again in the near future. These performances were mostly traditional work - the "Astanaga Kalam Puluvan" ritual performance at the opening, "Putana Moksham" Kathakali performance, Keiin's "Kamigatamai - Yuki & Yashima" and Parvathy's "Radha Bhav". Bengali actress Rwita Dutta Chakraborty was scheduled at the same time as my performance so I couldn't see this.
We got a brief taste of more contemporary Indian performance work during the talks, when Krishna Devanandan spoke about her work with the choreographer Chandra Lekha and later with another dancer from Chandra Lekha's company, where they developed contemporary dance that has a base in classical techniques but is a radical break away from the traditions. Kalaairani, an actress in Tamil theatre, spoke about her personal journey in devised performance work. Later, at the final dinner, Rekha Tandonlaunched her book on Odissi dance, co-written with her husband Michael Weston, and performed a short dance to the poem "Phenomenal Woman" by Maya Angelou. It was interesting to get this glimpse into contemporary women's work in India - hopefully the next Tantidhatri will showcase them in the programme.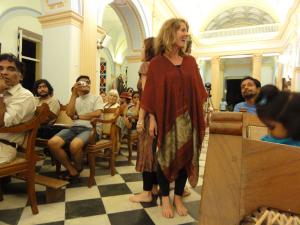 As well as the Indian performances, I managed to see Voix Polyphoniques in yet another beautiful cathedral setting (pictured at left); Cristina Castrillo's "Umbral" (I've lost count of how many times I've seen this work, but every time I see something new in it) and Bruna Gusberti's new work "Out or In?", which was very meditative and rather like watching a moving painting. Regretably I had to miss performances by Nathalie Mentha and Daniela Regnoli from Teatro Potlatch, Julia Varley, Geddy Aniksdal and Roxana Piñeda; some I have seen before but not all - but such is the nature of a festival! Many things happening at once, transport to coordinate, and my own show to prepare for ...
make-shift was presented from a house in Auroville, connecting in real-time with a house in Penryn, Cornwall where my collaborator Paula Crutchlow was, and with audiences online from anywhere in the world. every time we do this show we have a different challenge, according to the different locations and context, and this time the challenge was the power: this part of the world suffers frequent power cuts, and sure enough there was a power cut for the entire day of my performance. The house had back-up batteries, but after the power had been off from 9am, and someone had accidentally left a fan running while everyone was out, the batteries only had about an hour of power: not long enough! However, an hour before the show started, the power came back on - then 20 minutes later it went off again. We started the show at 7.30pm local time, on battery ... and at some point during the show, the power came on again - then went off again ... fortunately the internet connection wasn't disrupted and the main disadvantage was not being able to use the lights. Other than that, and a bit more anxiety on my part, the show went smoothly.
There have been too many other activities around the festival to write about in detail - including a visit to the massive Chidamburam Temple, where Parvathy performed a devotional song for Krishna, and a night-time boatride to an island that had been devastated in the 2004 tsunami and is now being redeveloped for ecotourism; a festival was taking place, with acrobats, dancers, food, and in the morning yoga as the sun rose. Now I have a week in Pondicherry, to soak up more of India - this being my second visit to India, 25 years after the first ... so I won't spend any more time than necessary on the computer!