Tantidhatri 3rd edition Kolkata 2019
The inspiration
In 2006 I received an email. It was an invitation to perform in a festival in Denmark. The name of the festival was Transit festival for 2007 January. The theme was "Stories to be Told". The mail was from the director of the Festival, Julia Varley. As I was reading the mail my heart was filled with great enthusiasm. In those years I was working on story telling with singing, dancing and painted canvas. I thought it was perfect for me to be there. I already had prepared work at my hand.

The "Transit" did a real transit in my life. For the first time I came to know that I have immense possibility with a body of a woman and with a free soul, free from all dualities. At Transit I listened to the stories that were spoken by women who achieved great mastery in their work through tremendous process from inner and outer world. Their stories left me inspired for the rest of my life.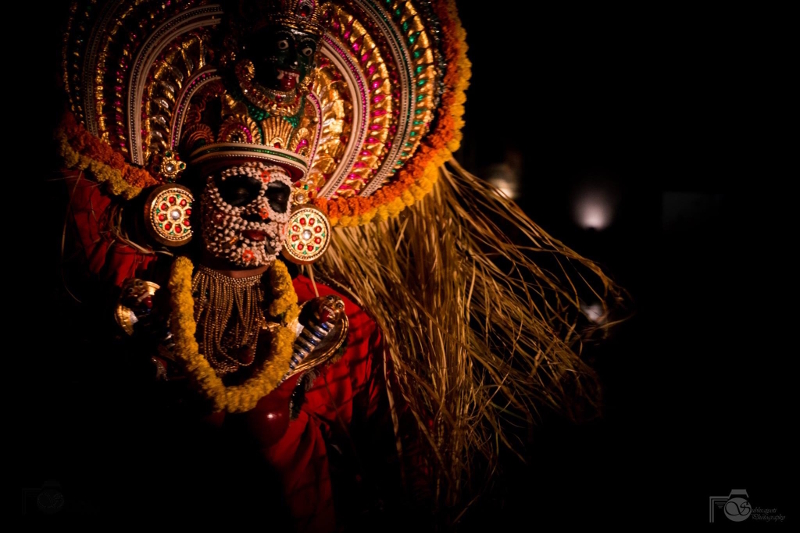 I wanted to create a space similar to Transit in India. Especially because I thought at that time that here in India we can inspire a sisterhood with the world. But I must make my realization clear here, after the experience of creating three editions of Tantidhatri festival in India: that even though we invite and involve the local community, the Magdalena Project is essentially a global family. It will always remain a global family no matter where we do it in the world. In all three editions of Tantidhatri it was always a global participation including the participation of the audience. I realized that the language we create in the Magdalena Project is so profound and artistically advanced that it appeals to the persons who have similar quest for life and work.
Picture at right: "Mudiyettu" inauguration of Tantidhatri Kolkata edition 2019.photo: Shubhrojyoti Talapatro.
The Magdalena Project is broad in its nature, like the mother earth which can hold all diversities with great harmony and conflict between them. The common thread which ties all the different beads of diverse colours with single thread of Love. That's the true quality of the feminine energy which has been successfully manifesting in the Magdalena Project from the beginning.
Tantidhatri is a word coming from Pali language. It was inspired from a song written by Binapad in the old text of Buddhist songs "Charyageethi". Charyageethi songs were composed between 8th and 12th century. "Tanti" means the thread and "Dhatri" means woman who holds it. Tantidhatri was created to celebrate generation of women masters both from the traditional and contemporary expression of art, theatre, music, dance, spirituality, social change and communities. 
The Manifestation
The first Tantidhatri took place in Pondicherry 2012. It was a great start despite many challenges. I must take the name of Sri Lalit Verma who stood by me and supported the whole festival to manifest it. All the different communities came together for Tantidhatri. The Volunteers from Auroville took all the hard physical manifestation of it. Here I would like to remember Japanese artist and Aurovillian Jyoti Naoki Eri and former danseuse and Aurovillian Krishna Devanandan. Just few days before the inauguration of Tantidhatri festival, Auroville the major venue for the Tantidhatri was hit by a cyclone. There was a moment of pause in all of us. We had already put months of work into it …was this really going to happen? With the grace of the divine, Aurovillians took the decision to go with it. The festival took off.
Through the three editions, I have seen several challenges that occur right before the festival takes off. Perhaps the other organizer sisters of other Magdalena projects around the world might have seen incredible challenges but I intuitively feel that despite all challenges they must have experienced that finally the festival took off as well. I feel it is phenomena of the feminine energy. Feminine energy is considered as the dynamic force of the creation. She is always in movement, unstoppable.
The second edition was in Bangalore with the support of Rangashankara Theatre and Smt Arundhati Nag stood as a very strong pillar to the festival. It was a great success. Ram was beside me through out and helped in every detail of the Festival. Aarathi Parthasarathi did most of the design work. Challenges showed up despite of all our efforts and at the end festival took off as usual.
I have many stories from these two festivals that I can go on sharing in this writing with you, but now let us come and get into the third edition of Tantidhatri in Kolkata.
We chose to do the 2019 edition of Tantidhatri in Kolkata as we have been in the process of building our Gurukul for the Baul tradition and other Holistic wisdom. In my 2015 interview I had talked about a house to hold Tantidhatri. Tantidhatri not remain only as a two yearly festival but to became a continuous process of transmission through generations. For that we needed to create a space. It is also because we wanted to see if we could give Tantidhatri a permanent house which is the Baul Gurukul. I wanted to bring my beloved Magdalena sisters here at our Sanatan Siddhashram (named after my Baul Master Sri Sanatan Das Thakur Baul, this name was given by him before he attained Mahasamadhi in 2016.) Sanatan Siddhashram is situated 3 hours away from Kolkata. It is not the only reason to choose Kolkata. Kolkata is sometimes referred as the capital of art and culture in India. Kolkata audiences are open to new expression of art and also to traditional art forms equally.
I keep on mentioning about tradition and to bring it together on the same platform of contemporary expression. As far as my experience goes I have always witnessed art practitioners of our times to draw a border between tradition and contemporary expression. It almost sounds to me as if the son is trying to deny his biological mother. We sometimes forget that at some point in time tradition also was a contemporary creation. Which was later repeated by many generations. The repetition of the creation through generations, generated unique energy of immense depth and wisdom. Through many challenges of modern times, traditions still survive and are still being practiced by communities across the world. We need to acknowledge this fact. Disappearance of tradition is disappearance of the communities. The tradition today is as much in danger as the disappearing forests and her inhabitants.
The Meeting
I am not accustomed to large cities. Kolkata is a large city. We decided to approach our government cultural and heritage board. HIDCO organization came forward and offered us their beautiful venue of Robindro teertho at Rajarhat. Now I must tell you that unlike other two editions we at Gurukul were a lot more volunteers in numbers. Amaranta helped me with all communication. It was a great help. My travels have increased over the years, grown big distance with mail writing. So I usually take help from Ram to help me organize. This time Amaranta came up, and she was perfect with time and every detail. My students Vinayaki, Dipanwita  and Mishtuni played a big role to bring together much support in Kolkata. Babu and Arathi helped again with designs, photos and videos. This time the challenge was unique. Just came the day before the festival.
In this festival we took up the theme of "Energy"/ Shakti. The "Energy" is created through repeated action with an intention. As it is said that energy is result oriented, the Shakti is mostly productive by her nature.
This year we were able to present a lot more Indian artists and Masters. Like any other Magdalena event the days were tightly packed. This year we were able to involve more communities of street children, and children of srx workers district. I personally was deeply moved to meet Durga, a street child. She grew upon the platforms of Sealdah Railway station, Shealdah station is visited by more than two hundred thousand people, daily. The children living on those platforms are constantly threatened with all kind of abuses. She too as a child was no exception. She transformed the negativities around her into a pure positive energy which she shares with other street children today.

When I met her to invite to Tantidhatri, she shared her experience. She told me that the children of the streets are more stressed than the adults who live in good condition of life. While working with the street children she experienced that they respond most to dance and body movement, as it gives them a sense of freedom and joy inside to express their existence in the world. Durga shared her experience during her talk with us (pictured, seated extreme right in the red sari. Photo: Arathi Parthasarathi). She attended all the workshops at the Tantidhatri to learn from the masters first which she said she would share with the other children.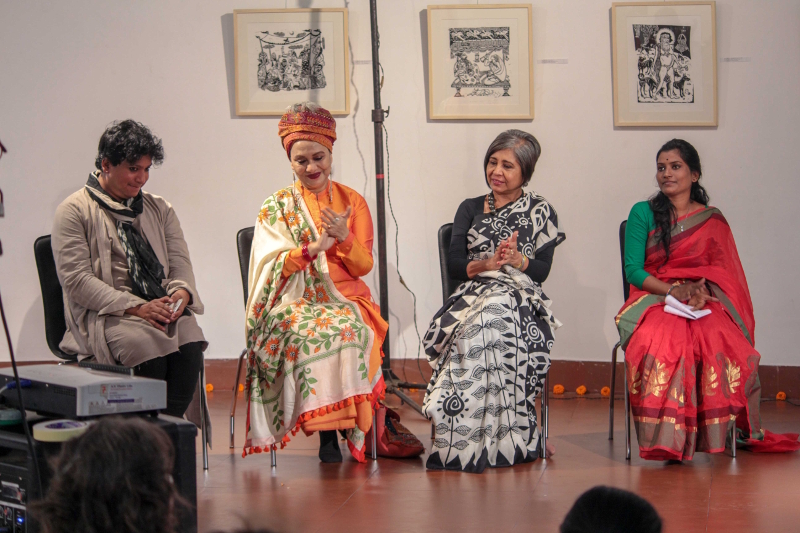 There were incredible women like Durga present in Tantidhatri from Kolkata and the surrounding area, who shared their talks, experiences and performances. I am not going into a lot of details here as I do not intend to make this article too long.
The work of Jill Greenhalgh with her workshop "Daughter" was very transformative for those who attended. Everyone who visited the presentation of the workshop was deeply touched.
In this festival we could present women masters who had done path opening work in their respective field. Path opening is a different approach as the conventional language "path breaking". Path breaking sounds more like a destructive in nature. It is like the conventional idea that you need to break something in order to create. But we can give birth to newness without being the authority to destroy, rather open new avenues allowing the diversity to remain as our inspiration. Opening new path is more unconditional.
The Energy of Tomorrow
At the end of the festival finally the women masters who encouraged and nourished me from the first meeting of 2007 at Transit, the Magdalena sisters, we could bring them to the Gurukul. Like the Tantidhatri, the Gurukul too was a dream even a couple of years ago. Gurukul will be the house for Magdalen project in India in future. I wanted to show the Magdalena masters their house. The Gurukul construction process will take another three years more to complete, by the time it will be the right moment for the next meeting of Tantidhatri in India.
With this prayer I end my article here with a short poem from Rumi. This poem I had performed for my piece "Adoration" which I had specially created for one of the Transit festival:
"Come to the orchard in spring,
there is light and nectar, and sweetness
in the pomegranate blossoms.
If you do come, these pleasures will not matter.
If you do not come, these pleasures will not matter.
Many things must be left unsaid,
Because it's late,
But whatever conversation we haven't had tonight
We will have tomorrow."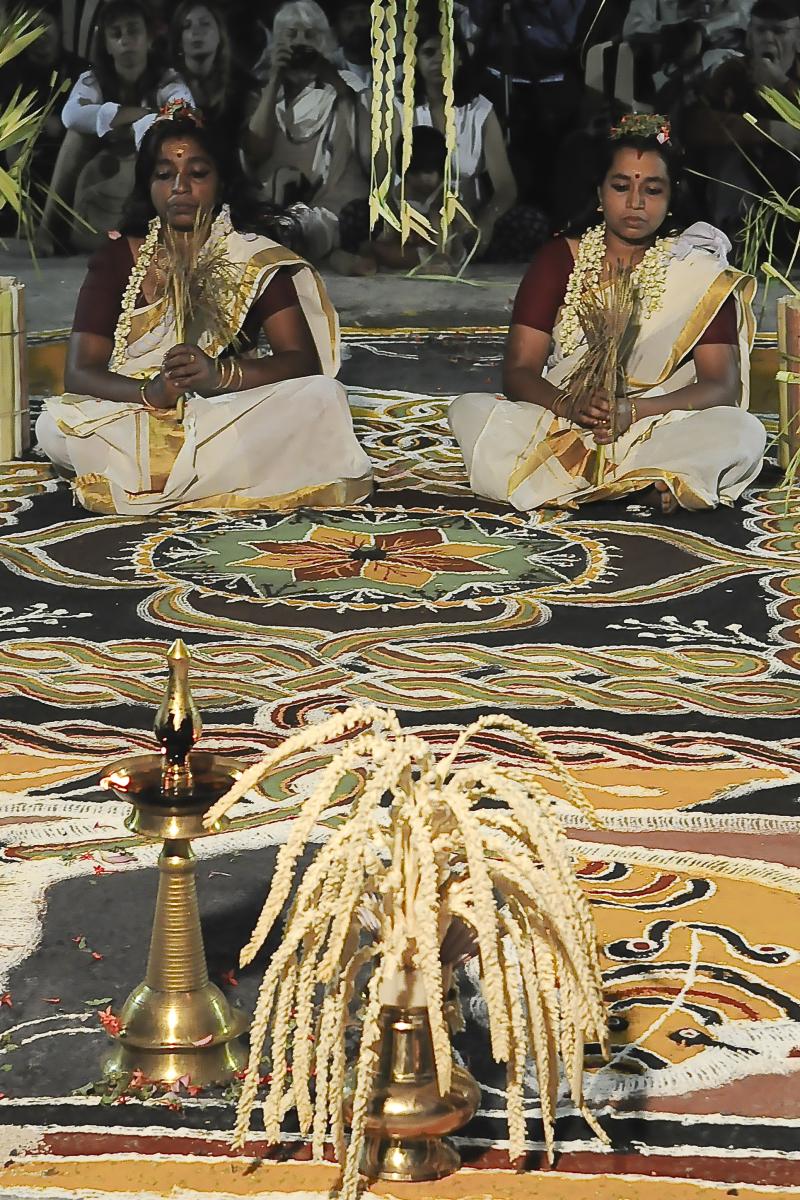 Above: Ashtanaga Kolam, inauguration of Tantidhatri 2012. Pondicherry edition. Photo: Jean Pierre Muller.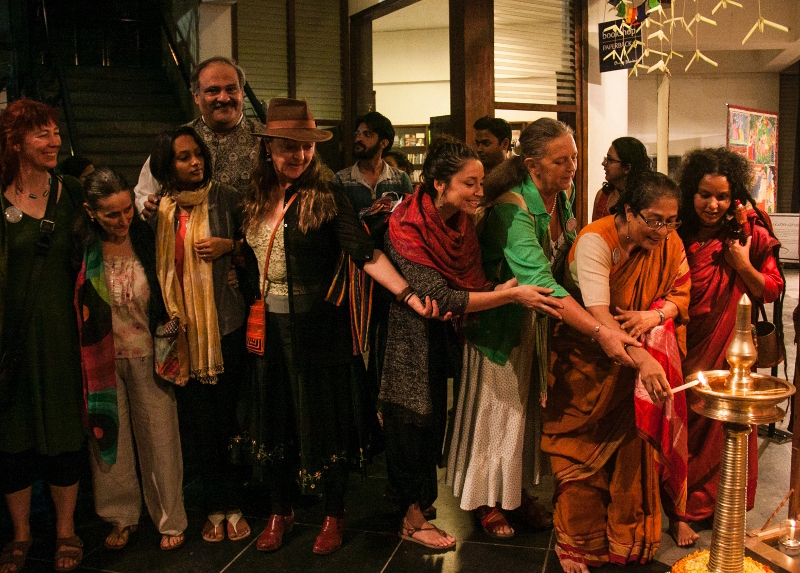 Above: Inauguration of Tantidhatri at Rangashankara, Bangalore. 2016. Photo: Aarathi Parthasarathi.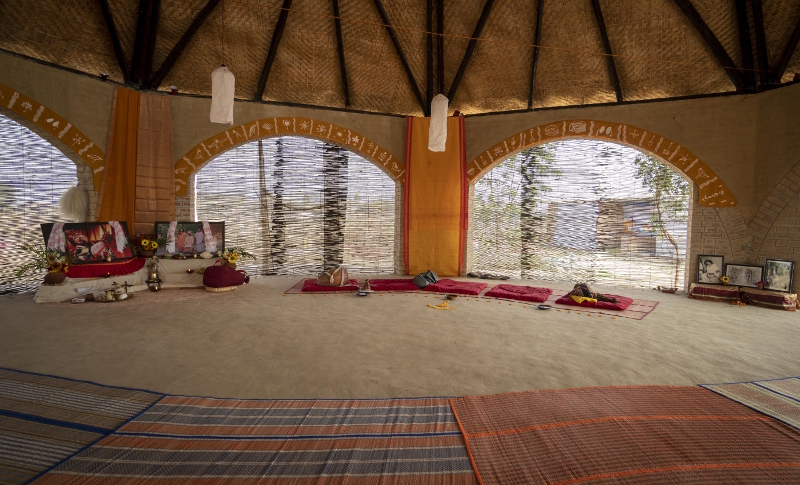 Above: Sanatan Siddhashram the Baul Gurukul established in 2018. Photo: Smrithi Chanchani.