Snapshot of Transit 7
Taken from my fb updates, a snapshot of the Festival so far...
May 31. Memoria. Achingly beautiful performance.
Today I had the opportunity to rehearse in the space where I will presentThe Prayer - a rare opportunity at Transit that I was quick to capitalise on. Got some great advice and wisdom from Jill Greenhalgh. And now, have just come from Roberta Carrera's work demonstration where she shares her journey as an actress with the Odin and the principles underpinning her work. Incredible. Really. Such discipline, intelligence, rigour and sensuous materiality. Delicious.
Jun 1. Transit Festival is an intimate affair and all the invited guests share the responsibilities of the 'house'. My responsibility this year? The bar. Benefits? Meeting all the convivial artists who enjoy wine and beer. Challenges? Closing after midnight then getting up for a 4.45am rehearsal. Still, the fact the sun goes down for only 3 or 4 hours helps!
Jun 3. Such a privilege to present a young work in this international context. The Prayer was very well received on Sunday night and I have been slightly overwhelmed (in a good way) by the number of artists who have wanted to come and talk with me about it. I am very excited about the next stage of development of this tender expression.
Today the festival guests and participants were in mourning for Odin actor Augusto Omolú, after learning of his murder yesterday. Also, Julia Varley has dedicated this festival to Erica Ferrazzo, a young Italian actress who was murdered last year by her ex-husband. I have just come from Deborah Hunt's fantastic work demonstration/performance titled 'The Package' in which Death and the Macabre are explicitly present in all their fascination, horror and humour. It was a packed house and we laughed at Death together with great relish.
I am also thinking about the privilege to choose to make work in a country where this choice does not entail an explicit threat to my life, as it did for Erica. I am also thinking in particular of the work of Dah Theatre in Serbia, who continued to make work as the bombs fell and moved their work into the streets; The Wings of the Slave Theatre (formerly Belarus Free Theatre) who are constantly censored and harassed by their government; and Patricia Ariza of Teatro Candelaria, Colombia, who told the story of going out of the theatre to find a cigarette, only to discover they were circled by tanks.
Humour is a great strategy - both for survival and social comment - of these three groups.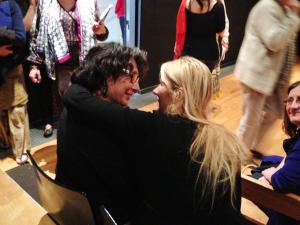 Jun 4. And we launch into another day of Symposia and Performances. Here we have Brigitte Cirla ( Voix Polyphoniques, France), Sanja (Dah Theatre, Serbia), with Jill Greenhalgh looking on (Jill is director of the international network of women in contemporary theatre the Magdalena Project and director of the stunning contemporary performance The Threat of Silence, made in collaboration with Australian national treasure Margaret Cameron).
So many political and theoretical provocations today. A film about Femen - young women literally putting their bodies on the line to fight dictatorship, religion and human trafficking. Their story (mediated, of course, by the journalists and editors cutting it for our consumption) shocks, excites and disturbs me. And then tonight: the performances were meditative, thought-provoking and beautiful. Political. Strong. Theatre as a space of reflection, of quietude, of shared silence. Thank you to CIA.De Theatro Phase 3 from Brasil, Violeta Luna from Mexico/USA and to Jill Greenahlgh, Wales. Now reflecting on the ways in which theatre is my religion.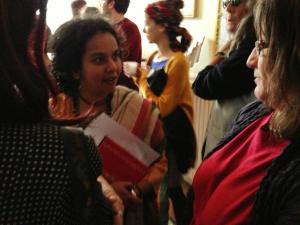 Jun 5. As you can see from this outdoor forum, it's really lovely summer weather in Denmark. I'm sure today it was at least 15 degrees in the sun.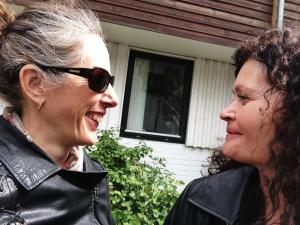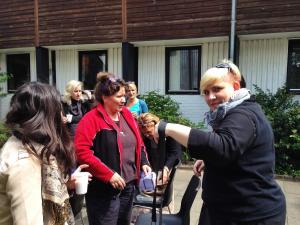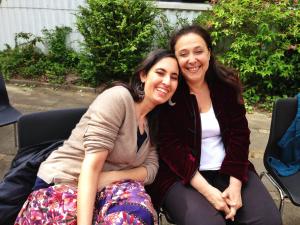 Jun 6. Another sunny and brisk morning in Holstebro. I am sitting in the Suite Royale at the Odin Theatre: a cosy room with a pitched ceiling and wooden floors. I am preparing for a short talk I have been asked to give this afternoon about 'practice that cultivates resilience'. Below me, in the Red Room, Voix Polyphoniques rehearse with Helen Chadwick for their presentation tonight of Songs from the Black Sea. Their muted voices float upwards and I feel as though I am suspended on the breath of angels.