Sisters in Arms
An Essay in Movement about WWI
(Inspired by Sanja Krsmanović Tasić`s Tales of Bread and Blood)
Co-production of Ake Ake Theatre (New Zealand) and Hleb Teatar (Serbia)
Written and directed by: Sanja Krsmanović Tasić and Jessica Latton
Performed by: Jugoslav Hađžić, Sanja Krsmanović Tasić, Jessica Latton, Rhys Latton and Anastasia Tasić
Guest musician: Demir Ahmetović
Music: Jugoslav Hađžić
(Texts by Antonije Đurić, Rebecca West, Mustafa Kemal Ataturk, XIV century unknown Japanese samurai )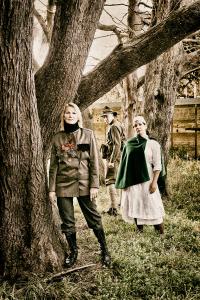 The performance Sisters in Arms has in its essence the belief of its authors that the true history is the kaleidoscope consisting of individual fates and personal truths, believing that theatre has the power to transmit these histories in a direct way through a joint ritual of the audience and the performers. The goal of this ritual is healing, with the attempt to reveal, in this case, the phenomenon of war in all its complexity.
Through the eyes of women participants of the war - Sofia Jovanovic, a young women from Belgrade, warrior and hero also of the Balkan wars and Dr. Jessie Scott, the first New Zealand woman war surgeon who was healing Serbian soldiers - and many others, we have the insight of the war from a different angle, the personal angle of a women/creator of life, in the midst of destruction and death. The stories that will also be presented are stories that have been discovered after a long and detailed research of the theme, are stories of the Maori ANZACs and Serbian soldiers, all fighting in WWI.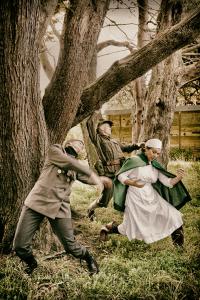 This international collaboration will have as its base music from our distant parts of the world, with songs especially composed for this collaboration and performed by the TWO FOLDERS band from Belgrade. This third Essay in Movement, originally conceived by the author Sanja Krmsnaovic Tasic as a new theatre form, will also have endnotes, that will be revealed to the audience at the end of the performance. The endnotes will contain explanation and further demonstration of certain parts of the performance/essay, explaining the phenomena and rituals unknown to the audience, thus bringing together our distant cultures, of Serbia and New Zealand. The performance will have its premier on BITEF Polyphony Festival, side program of BITEF Festival, on the 24 th of September, and will be performed in Novi Sad, Serbia, and at the Dunedin Arts Festival and Nelson Festival in New Zealand in October.
The performance is supported by Creative New Zealand WWI Centenary fund, Otago Community Trust and the Ministry of Culture of the Republic of Serbia, in collaboration with Association of Drama Artists of Serbia and BITEF Theatre.