Rohingya Women's Theatre
Bond St Theater working in Malaysia
Bond Street Theater
's work for social justice in global hot spots continues. In February, we returned to Malaysia, a destination for refugees from Sudan, Somalia, Libya, Iran, Iraq, Afghanistan, Yemen, Palestine, Syria, Sri Lanka, and other places. Despite harrowing journeys at the hands of traffickers, desperate families seek a safe haven to raise their children. 
We returned to Malaysia to continue our work with refugees, particularly Myanmar's persecuted Rohingya Muslim minority. 
"This is what's happening now....some are trafficking children. Even when you give them money, they can do anything."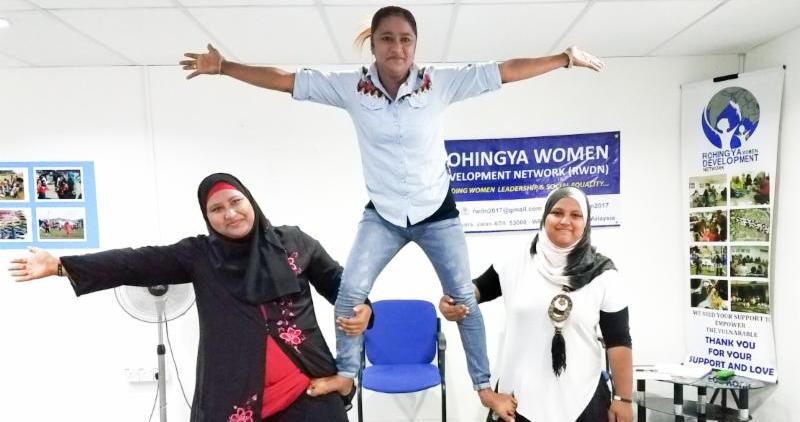 We listened to tales of journeys on foot through jungles in the dead of night, in utter silence for fear of discovery, despite carrying babies and young children; boats loaded beyond capacity; and people packed in pickup trucks, laid side by side and covered with cloth to look like a shipment of fruit as they slip through checkpoints.  
As state-sanctioned violence in Myanmar escalates, traffickers become more daring and greedy, and the price of transit to safety rises. As we spoke to refugees, we realized that these were the lucky ones, not those left in the jungle, sold along the way, or worse. 
The Rohingya have been residents of Myanmar for decades, yet they have always been isolated, excluded from citizenship, and deprived of education, land, and health care. 
Now in Malaysia, refugees find they have few rights, since the country did not sign the UN Convention on Refugees. This leaves refugees extremely vulnerable to exploitation.
In partnership with Asylum Access, a legal aid organization that provides refugees with information on rights and resources, we formed the Rohingya Women's Theatre, a group of refugee women determined to speak out about their lives. 
"This is not just a show. These are real experiences that we have been through; we want people to know these stories."
Working with
Masakini Theatre
, a kindred theatre group with a social mission, we will begin work on a new production with the Rohingya women on child marriage, and with Somali women who have similar stories of escaping violence in their homeland.
As refugees with few legal protections, speaking out is not without risk. We are lucky to work with and learn from these fearless advocates for justice.