Peggy Shaw & Lois Weaver receive award
2022 Ellen Stewart Career Achievement in Professional Theatre Award
Congratulations to Peggy Shaw and Lois Weaver of Split Britches, who are two of the three recipients of the 2022 Ellen Stewart Career Achievement in Professional Theatre Award.
The award, one of ATHE's two most prestigious awards, is named in honor of Ellen Stewart's profound legacy to the profession and the academy.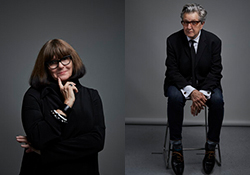 Honorees are selected on the basis of superlative contributions to the field, sustained excellence during their career, innovative work that has established new frames of reference, support for diversity in theatre, and service and advocacy on behalf of fellow theatre artists.
The award is also given this year to Tina Packer, founding Artistic Director (1978-2009) of Shakespeare & Company.