Parvathy Baul Europe Tour
Performances, workshops and retreats
2 June 2022

to

19 July 2022
Concerts // Retreats // Workshops // Art
France
2-4 June, Saint-Pierre-de-Maillé
RETREAT                          
2 days retreat with songs, wisdom stories, Baul movement, meditation, pranayama and yoga, kirtan and Q&A space
Venue: La Ferme de Jutreau
La Ferme de Jutreau is a place dedicated to spiritual practice located in the commune of Saint-Pierre-de-Maillé (86260) in Vienne dpt, 30 minutes from the A10 motorway. The nearest train stations are Châtellerault and Poitiers. 
​Price: 100,- EUR for your dormitory accommodation, meals, activities offered, shuttle from and to the train station. Additional donations for Sanatan Siddhashram are welcome. 
>>To book your seat / for more info, email: serenade.etoiles@gmail.com
​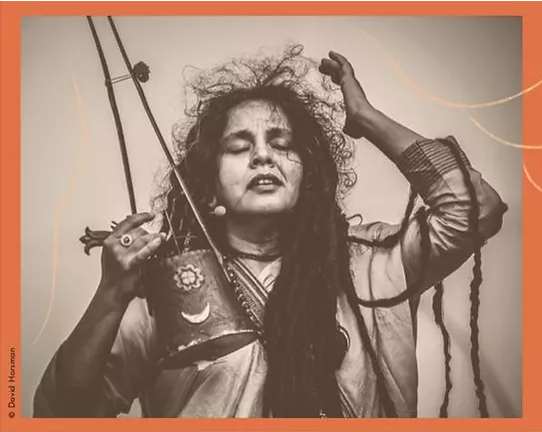 4 June, 8 pm, Saint-Pierre-de-Maillé
CONCERT & ART EXHIBITION   
Madhukori performance and Art Sale in support of Sanatan Siddhashram and its projects in Birbhum, West Bengal. India
​Venue: La Distillerie, 14 rte de Vicq 86260, St-Pierre-de-Maillé
>>To book your ticket, click here
​​
18-19 June, Alénya
RETREAT                            
Two days workshop with songs, wisdom stories, Baul movement, kriya, pranayama, hatha yoga and Q&A space
Venue: Alénya, 66200, near Perpignan, France
>>To book your seat / for more info, click here
​
20 June, 8:30pm, Monoblet 
CONCERT & ART EXHIBITION   
The concert and the art sale will be held in support of Sanatan Siddhashram and its projects in Birbhum, West Bengal, India
Venue: the Protestant temple of Monoblet, 30170, Cévennes Piedmont
>> To book your ticket, click here
Denmark
3-12 June, Holstebro
FORUM & FESTIVAL      
Transit 10 – The Splendour Of The Ages. Theatre – Women – Courage
Venue: Odin Teatret www.transitforum.dk
​
12 June, Copenhagen
CONCERT                          
Venue: Stuebjerggaard Tisvildeleje
To book your seat / for more info, email: stina@rastablanche.dk
​
13-15 June, Copenhagen
WORKSHOP & PERFORMANCE   
Bhakti Evening (exact day to be confirmed)
To book your seat / for more info, email: stina@rastablanche.dk
More information about the events:
https://www.parvathybaul.com/europe-tour
or send an email to our European non-profit association Sérenade aux Etoiles: serenade.etoiles@gmail.com