a networked performance about connectivity and consequences
Connecting people across the ether, make-shift invites discussion and thought about current ecological issues.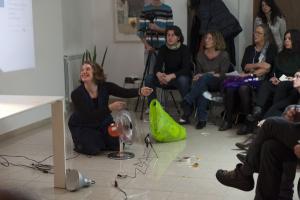 Paula Crutchlow presents make-shift at MagFest Pescara, January 2012.The next make-shift event takes place on 22nd February 2012, connecting a house in Nantes, France (hosted by APO33) with a student flat in Plymouth, UK (hosted by Peninsula Arts). There will be a live screening at the Jill Craigie Cinema, Plymouth.
Online audiences can find their local time by clicking here, and join the event by going to the make-shift web site shortly before showtime and clicking on "Live Link Here" to enter the online interface. To participate at either of the houses, contact brokers@make-shift.net (places are limited).
Everyone is asked to collect the plastic they use and dispose of in the 24 hours before the event, and bring it with you or have it beside you if you are participating online.
More information is available at www.make-shift.net.