a networked performance about connectivity & consequences
10am UK, 11pm New Zealand
A home in New Zealand is connected with a house in the UK and an online audience for this unique event.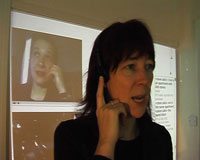 make-shift is a unique and intimate networked performance that speaks about the fragile connectivity of human and ecological relationships. The performance takes place simultaneously in two separate houses that are connected through a specially designed online interface. Paula and Helen (one in each house) stage their part of the work with the help of local audience members. Scripted and visually poetic performance is interspersed with webcam videography, avatar puppetry and audience interaction in the format of a performative salon. Everything that happens in the houses is streamed to online audiences who can also contribute text chat visible on the interface to everyone throughout the event.
To join the performance as online audience, go to http://make-shift.net/ and click on "LIVE LINK HERE" in the top right-hand corner. All you need is a domestic broadband internet connection and a standard browser (note that the interface will not work on iPads as it requires the Flash player plug-in).