A festival hosted by Teatro La Mascara in Cali and Bogota, 21 September - 5 October 2002.
"Colombia condensa todos los dramas de Occidente."
Patricia Ariza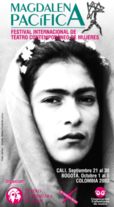 Magdalena Pacifica hosted 37 groups of women performers from all the American continent as well as countries belonging to the Pacific Basin and the groups and personalities which make up the international network of the Magdalena Project. Teatro La Mascara, directed by Lucy Bolanos,was in charge of the executive direction of Magdalena Pacifica, and Patricia Ariza hosted the extension of the festival to Bogota. The festival aimed to contribute to finding an end to the conflict and inequities in Colombia.
The festival also included "Voices of the Women of the World for a Peaceful Colombia", a series of special events including the Polyphonic Forum "Tracks Made by Women on the Peace Trail" where performers, musicians, writers, painters, film-makers, academics, feminists, political and community leaders, indigenous and Afro-Colombian women met to offer the city their experiences and testimonies. This took place on 22nd September from 9:00 a.m. onwards at the Centro Cultural de Cali. Fifty special guests from Colombia and the world each gave a five minute performance, using poetry, dance, story-telling, witness statements, and songs to share with us the contributions they have made towards building peace and safeguarding life and the freedom of thought in the face of barbarism and death.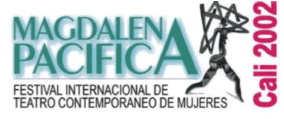 Contact:
Teatro La Mascara
Carrera No. 10, No. 3-40 Barrio San Antonio
Colombia
Telephone: (092) 892 2362
fax: (092) 893 87 69
email magdalenapacifica2002@yahoo.com
Photos: on this web site

Documentation: