The Magdalena München Season begins!
We are now one week into the Magdalena München Saison 2018, and already a lot has happened! The February artists have arrived in Munich and settled into the Villa Waldberta in Feldafing, and their performances, workshops and projects are underway.
Our opening on Friday 02.02. and Saturday 03.02. was warmly received. A good-sized audience was gathered i the foyer of HochX, when a masked figure (Cecilia Bolaños) appeared on the stairs,  singing and drumming. She moved through the audience, singing and making contact with people, before leading everyone into the theatre space and all the way onto the stage. There, Martina Marini Misterioso gave her performance Final Act, a quiet meditation on the concepts of home and belonging.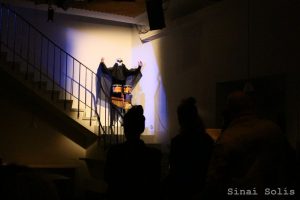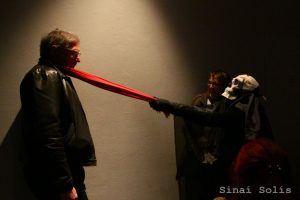 As the audience sat contemplatively on the stage, drums and calling came from the theatre's gallery. A regal figure (Sabine Bollenbach) in a long flowing sparkly blue gown that extended into the seating welcomed us – to HochX, to the centenary of women's suffrage in Germany, and to the Magdalena München Saison. Her speech described Magdalenas and gave hints at the performances and events to come in the programme. Then she invited the public to be seated, and we listened to the beautiful music of Elis Roseira. I introduced the artists and spoke about Magdalena, then we heard more from Elis.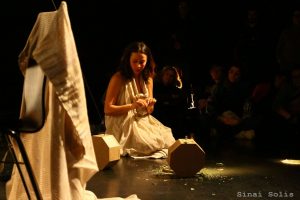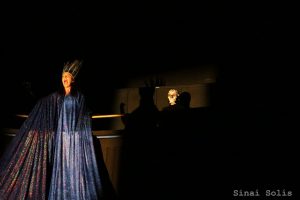 Unfortunately the second half of our opening programme had had to be changed due to the non-arrival of Deborah Hunt's luggage, containing all of her puppets, props, costumes and scenery required for Tale 53; Snowhite.  We screened the documentary film Magdalena instead, and then had an extra surprise finale to the evening when, as we sat in the foyer with a glass of wine after the film, the three missing suitcases arrived! It was a jubilant moment and a big relief. The show would go on!! And it did, on the following night, to an enthusiastic audience. Everyone stayed afterwards to hear an impromptu discussion from Deborah, explaining the various puppetry techniques she had employed and allowing us to have a close look at everything. Deborah will perform Tale 53; Snowhite once more, on Saturday 24 February at Meta Theater (Moosach bei Grafing).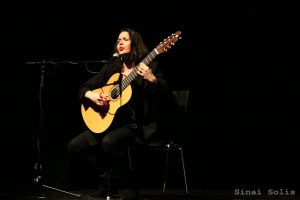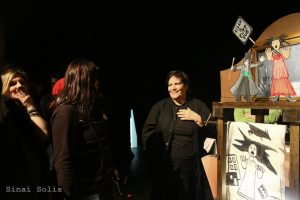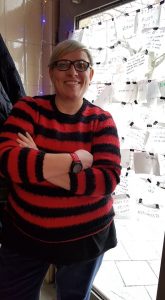 On Saturday 03.02., Zoe Gudović opened her performance installation DISSOCIATION, in collaboration with Das KloHäuschen. She has transformed this former men's public urinal into her living room, and invites the public to visit her, to drink tea with her, and to speak about love – in the context of her story of the 2001 Belgrade Gay Pride march, where violent thugs attacked peaceful marchers. Visitors then write something about love on a piece of toilet paper and this is hung in the KloHäuschen's glass door. So many people came on the first day (they were "giving each other the doorhandle") that the glass door was quickly filling up with people's messages.
Also on the 3rd and 4th of February, Jana Korb gave her workshop Kreation im begrenzte Raum (Creation in Confined Space). Some of the participants came with their "confined space", such as a suitcase, or a box, while others worked with Jana's trapaze and other limitations that they found in the workshop space. They all found this idea of operating within limitations to be very inspiring.
The monthly "Jourfix" at the Villa Waldberta took place last Thursday. This is an informal party and an opportunity for the resident artists to meet local people from Feldafing and from the Munich arts scene. Often the artists give presentations or small performances, and naturally the "Villa Magdalena" artists put together a wonderful show. Deborah Hunt's Macanuda mask character acted as our guide, leading us to the Palmenhaus for a preview of Kordula Lobeck de Fabris' multimedia installation Unischtbare Orte – das Leben ist ein Geschenk, and a work-in-progress from Jana Korb. Back at the Villa, Zoe Gudović gave a presentation about her street performances highlighting violence against women in Serbia, and the programme concluded with a taste of Tapete Manifesto from Thaís Medeiros and Ivan Medeiros Masocatto.
Today the Macanudos workshop is underway, the participants are busy making the masks and costumes that they'll wear for the parade at Olympia Einkaufszentrum this coming Saturday. I'm busy catching up on admin and emails, and trying to finish this blog post that I began almost a week ago!