Magdalena artists nominated for theatre award
Magdalena Project founder Jill Greenhalgh has been nominated for the prestigious Gilder-Coigney theatre award, along with long-time Magdalena member Dijana Milosević of DAH Theater (Serbia) and Zana Hoxha Krasniqi, founder of Artpolis (Kosovo), who has also participated in Magdalena festivals.
In total 26 women theatre practitioners from around the world have been nominated for the award, which will be announced on Tuesday 16 February 2021. Previous recipients of the award include Patricia Ariza, who has long been part of the Magdalena network.
Nominees are evaluated on five criteria. They must have achieved artistic excellence, particularly in the exploration of new forms of theatrical expression; have received recognition of their work at home and abroad; demonstrate a commitment to the support of women through theatrical practice; have a body of work that inspires and educates US theatre practitioners with new ideas from abroad; and be able to leverage greater recognition and opportunity via receipt of the G/C Award.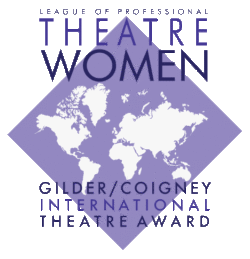 Click here to register for the online award ceremony.
The League of Professional Theatre Women's (LPTW) Gilder/Coigney International Theatre Award Program was established in 2011 in honor of Rosamond Gilder and Martha Coigney, two legendary practitioners and diplomats whose work on the international stage proved that theatre knows no boundaries. Presented every three years, this award acknowledges the exceptional work of a non-U.S. theatre woman, promotes expanded visibility and new opportunities for the Awardee and her sister nominees, and fosters connections and networking with LPTW members and local cultural institutions. Odile Gakire Katese (2011, Rwanda), Patricia Ariza (2014, Colombia), and Adelheid Roosen (2017, The Netherlands) were our first three winners.