Last Gasp: A Recalibration
19 October 2021

to

23 October 2021
Oour first live performance after nearly 2 years away from the physical stage!
We almost can't believe we're opening our first live performance after nearly 2 years away from the physical stage!
Thank you.
Landing somewhere between the realms of the live and the virtual, presence and absence, between staying home and venturing out, we've created a performance combining spoken word, movement and Zoom technology to respond to a world turned upside down. And it's been quite the journey to get here!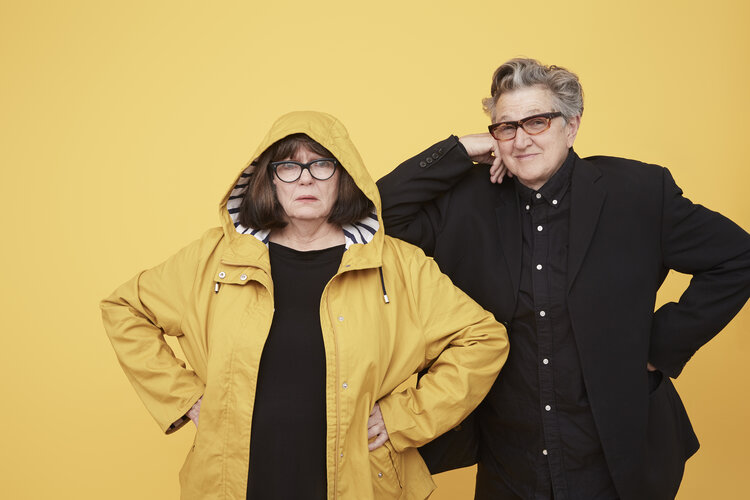 In early 2020 we set out to present
Last Gasp
working with a core team of collaborators Nao Nagai, Vivian Stoll, and Morgan Thorson.
Last Gasp
was a live performance questioning demise: the demise of ageing bodies, civil conversation, and a sustainable planet. The pandemic arrived and knocked the breath out of all of us, as did a period of civil unrest that marched under the banner of 'I can't breathe.' The ironies were not lost as we locked down, stayed in and continued our investigations resulting in a digital performance,
Last Gasp WFH
.
Now almost two years later, Last Gasp: A Recalibration gathers us in the same room but not as the same people. Returning to the physical stage, Shaw and Weaver reevaluate what it means to be together in a theatre and what it means to perform in the aftermath of a foundation shattering crisis. With episodes entitled 'The Trump in Me', 'How to Set a Table in an Emergency', and 'How to Survive a Loss', Split Britches brings us together to recalibrate - not only facing demise but considering strategies for moving on. 
And a Porch Sitting!
Once we close Last Gasp: A Recalibration, we've got a digital Porch Sitting October 27, 2021, 19:00 BST! Join us for a conversation on what we're leaving behind and what we're moving towards in our lives as we hover on the edge of change. 
For more information on the Porch Sitting format visit the following website:
and visit the following website to reserve your place for a Porch Sitting on Stepping Out:
Thank you.