HERE - Súbita Companhia de Teatro
Súbita Companhia de Teatro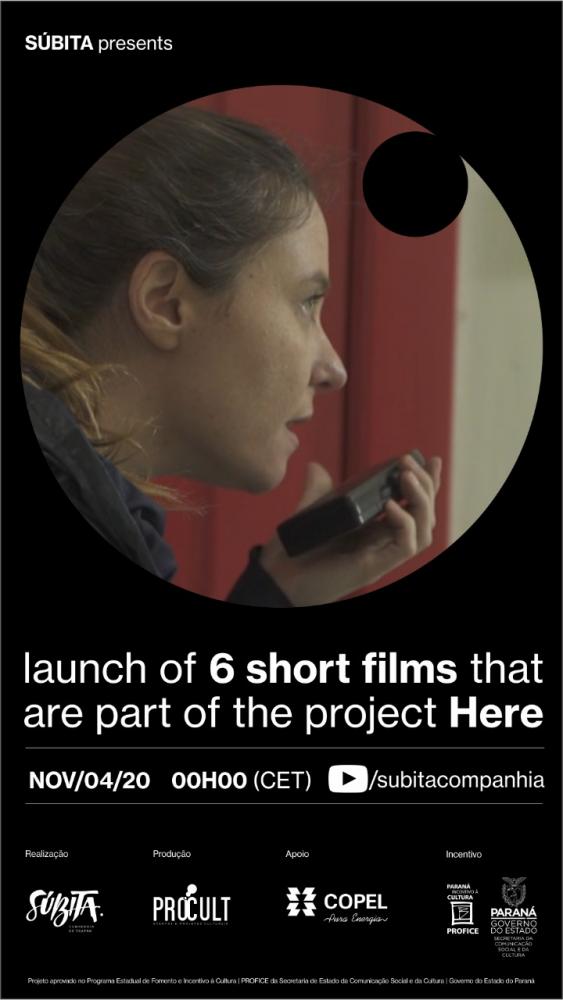 20h15 (Brazil), 00:15 (Central Europe Time) 
Performed in Portuguese with English subtitles.
There is a problem, there is a secret, there is hope.
Starting from these three phrases, full of concepts and images, Súbita Theater Company in partnership with the playwright Lígia Souza presents HERE – a series of 6 short films that premier on November 4th of 2020. Here you can refer to the floor on which we step, which led us to dig layers to glimpse what was here before and what may be after us. In dramaturgy, there is an overlapping of times, of chronological perspectives that fall apart, non-time in one place. And what is this place?
Videos:
2.
Do you know I was born twin in a world at war? 
3.
We either stick foot on earth or dance freely through space
5.
Noises from the end of the world rocked by a beautiful song
6.
Everything coexists. here. here. here. here.
Credits
Cast: Cleydson Nascimento, Conde Baltazar, Helena de Jorge Portela, Janaina Matter e Pablito Kucarz
Director: Maíra Lour
Assistant to Director: Dafne Viola
Scripts: Ligia Souza
Director of Photography: Eli Firmeza
Camera assistant and electrition: Lucri Reggiani
Sound design: Álvaro Antonio
Costumes: Isbella Brasileiro
Art Director: Guenia Lemos
Make-up: Carol Suss
Assistant to Director: Dafne Viola
Executive Producer: Gabriela Berbert
Director of Production: Michele Menezes
Assistant to producer: Sergius Ramos
Aerial images: Bernardo Rocha
Sign language translator: Talita Sharon Simões
Cast Preparation: Tonio Luna
Project 6572 Súbita 10 anos
Project Coordination: Janaina Matter, Maíra Lour e Michele Menezes
Artistic Direction: Maíra Lour
Director of Production: Michele Menezes
Executive Producer: Gabriela Berbert
Finances: Nelcy Mendonça
Social Media: Cleydson Nascimento
Press: De Inverno/Adriane Perin
Production: Pró Cult
Realization: Súbita Companhia de Teatro