Listening Mind, Moving Voice
10 April 2015

to

18 April 2015
Venue:
Performance Centre, Falmouth University
Book now for the 25th anniversary edition of the Giving Voice festival!

CPR is delighted to announce  the programme for Giving Voice 13, 'Listening Mind, Moving Voice',  that takes place in Falmouth, Cornwall, UK  from 10th – 18th April 2015. This 25th anniversary edition of Giving Voice will focus on the voice in performance that is led by the listening ear and is on the move. It will bring together practitioners and scholars who work at the border between voice and movement: oral and aural; freedom and control; spoken and sung; tradition and innovation; emotion and thought; the brain and the breath; the ephemeral and the material.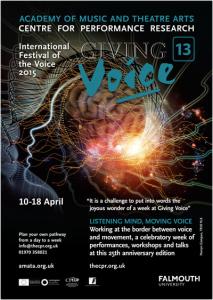 Thanks to funding from the Foyle Foundation and Falmouth University, the thirteenth edition of the Festival, marking 25 years since the conception of the project, will be hosted at the Performance Centre, Falmouth University.
Below you will find the calendar of workshops and performances, information about the artists taking part and a booking form. Bookings are now open. For more information email us at info@thecpr.org.uk or call on +44 (0)1970 358021.
At just £495 (£375 unwaged) a Full Festival Ticket offers exceptionally good value for money giving you access to all events from 10-17 April: each day you can see a life-changing performance, immerse yourself in a workshop with a leading teacher and hear ground-breaking presentations. If you are unable to attend the full festival, Festival Day Tickets (1-day, 2-day, 3-day, 4-day and 5-day) are available that include access to your chosen workshop that day plus talks and presentations and a performance in the evening. Each 'Festival Day' begins with a warm up session at 9.00am. You can choose from a range of different workshops, but note that you need to book for the total duration of the workshop course you have chosen. The workshops will run from 9.30am until 1.30pm.  After a break for lunch,the day continues with presentations between 3.00pm and 5.00pm and evening performances at 7.30pm.