Gilla Cremer will perform in your home
Dear Companions in Fate,

it took me a while to grasp the cancellation of my upcoming 25 scheduled performances (see below)! I was so looking forward to sharing six colourful and diverse stories with you, to meeting YOU, up and down the country. But now we're down in our luck.
This is the time to start telling a completely different story: Can we invent a new dramaturgy for this, or develop new "social games" that connect us with one another despite all the isolation?

The economic implications of these viral times are threatening and uncertain for many. However, one thing makes me confident: the boundless resources of our imagination! They are unlimited and can't be depleted. And if we show solidarity, empathy and generosity, we won't be infected by selfishness! Yes, we can sing and play music on the balconies too! At home, we can dig out the old board games, read books, memorise poems and above all: Despite the ban on touching, it is imperative to reach out to those who are in need - as best we can.

Before I go into isolation, I will at least visit my favourite little café and put the money on the table that I would have spent there in the next few weeks anyway. Some existences will be threatened, and the least we can do is get in touch with people and places that are important to us, and ask how - within our means - we can support them. whether they are friends, neighbors or acquaintances, whether they are our favourite shops, restaurants, theaters, cinemas, be it with with errands, shopping, childcare, advance payments, vouchers, donations or simply with our sympathy and an open ear.

I would like to thank all those who asked about my livelihood as a freelancer. After shedding a few tears I am home and dry. As I was fortunate enough to have performed a lot lately, I'm comfortable and cared for.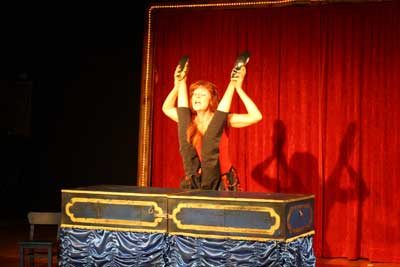 Here's an offer for all those who expressed their disappointment to be missing a show: I will come to your home! With a special and unfortunately rarely performed play, which I really love very much, because it is so different from all of my other plays, so painfully beautifully insane, and yet I stopped playing it after the death of my great beastly co-performer Gipsy: WHY THE CHILD IS COOKING IN THE POLENTA, based on a moving, autobiographical account by Aglaja Veteranyi. Of course, image and sound only, but in full length. A short version as a teaser can be found on YouTube here: https://www.youtube.com/watch?v=QJ5-PkogVAU

If you want me to come to your home with the full-length play (free of charge, naturally, Language: German), you need a password that I would be happy to send you on request !!!

All the best !!!!
Gilla Cremer

CANCELLATIONS
13.03. MY PARENTS THINGS Rodgau community center
14.03. FRIENDSHIP Bürgerhaus Schwalbach
18./19./20./21./22./03. FRIENDSHIP Harburg Theater
24.03. THE BITCH OF BUCHENWALDE Stadttheater Neuburg / Donau
26.03. ONCE I LIVE Stadttheater Lindau
31.03. KNEF Theater Lippstadt
02.-05.04 / 07.-09.04 / 16.-19.04. WHAT YOU CAN SEE FROM HERE Hamburger Kammerspiel
23.04. SEASIDE Hilchenbach
24.04. ODYSSEE EMBRYONALE Hameln
27.04. SEASIDE Hamburg
04.05. FRIENDSGIP Beverungen
05.05. FRIENDSHIP Borken
07.05. ODYSSEE EMBRYONALE Wermelskirchen