Future Conditional - Notes for Tomorrow
Recording of the live stream of the launch,
15 October 2017 in Holstebro, Denmark
The Editorial Board of The Open Page Publications is delighted to invite you to the launch of Future Conditional - Notes for Tomorrow.
The Open Page has always been driven by the need to encourage theatre women to record their experiences, whether working within the context of a group or alone. The thirteen volumes of The Open Page journals and the two books published previously, have given us more than we anticipated: personal stories, gratitude for significant influences, practice, pedagogy and, frequently, reflections on the perplexing question of how to pass on knowledge and experience from one group or generation of women to another.
This new book is an attempt to take a step into the future, by asking where we are going and what we will do when we get there. Contemplation of the future turned out to be a difficult theme, and many of the authors expressed this difficulty in their writing. Future Conditional - Notes for Tomorrow is an anthology of essays, poetry and articles by twenty-five women from four continents, all of whom are connected to The Magdalena Project. The common aim, expressed in individual ways, is to articulate the hopes and fears, demands and aspirations for the kind of future that we want to share with each other. The book is illustrated with paintings by Danish artist, Dorthe Kærgaard.
Video recording of the launch by Suzon Fuks; photographs by Filipe Galli.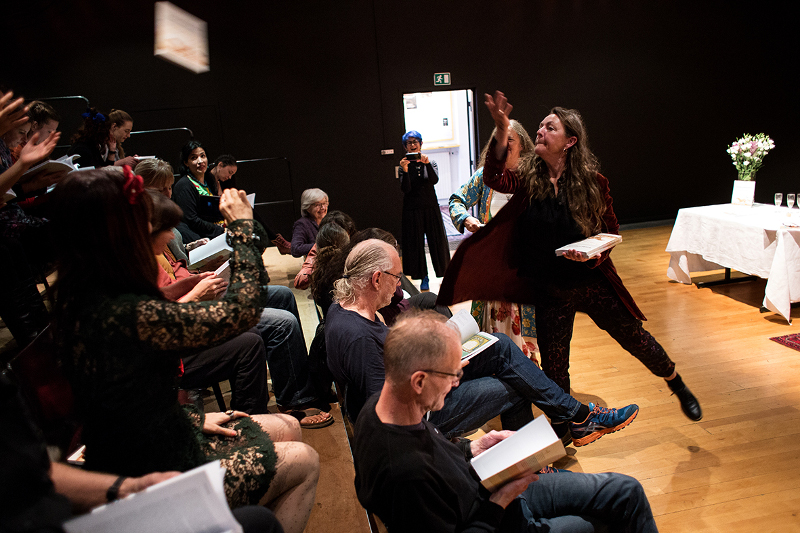 Future Conditional - Notes for Tomorrow
Launch: 15th October 2017, 12 noon at Odin Teatret - Særkærparken 144, 7500 Holstebro, Denmark
If you want to join us for the launch of the book, please write to luciana@odinteatret.dk
*On the morning of the 15th of October Jill Greenhalgh and Suzon Fuks will share a work session on their performance project The Book of Space.
To order copies, please visit Odin Teatret Webshop.
Credits
Cover Design: Marco Donati
Cover Painting: Dorthe Kærgaard
Lay-out: Rina Skeel
Editorial Board: Gilly Adams, Geddy Aniksdal, Maggie Gale, Julia Varley
Production Co-ordinator: Luciana Bazzo
Translations: Gilly Adams, Ana Imširović Dordević, Julia Varley and the authors
Thanks: Sarah Duthie, Lars Vik
Published by The Open Page Publications with the support of Odin Teatrets Forlag, Grenland Friteater, The Magdalena Project

Contents
Maggie B. Gale (UK) - Future Thinking
Anna Andrea Vik Aniksdal (Norway) - Thoughts from the Future
Brigitte Cirla (France) - Utopian Dreams
Marisa Naspolini (Brazil) - 100 Years and a Few Stones
Jill Greenhalgh (UK) - Facing Up
Margaret Cameron (Australia) - Lay Me Out
Kordula Lobeck (Germany) - Present Futures
Jo Randerson (Aotearoa New Zealand) - Amazing Babes
Parvathy Baul (India) - Practising Ancient Wisdom
Katarzyna Kułakowska (Poland) - Somebody's Daughter
Carolina Pizarro (Chile/Denmark) - Changing the Present
Jess Brookes (UK) - Magdalenas
Roxana Pineda (Cuba) - Crucial Moments
Gilly Adams (UK) - Walking Westwards
Patricia Ariza (Colombia) - Knowledge
Madeline McNamara (Aotearoa New Zealand) - Divine Doubt
Luciana Martuchelli (Brazil) - Mare Serenitatis
Meg Brookes (UK) - Get Sh*t Done
Julia Varley (UK/Denmark) - The Swing
Lis Hughes Jones (UK) Lis - Sian - Ann: Moments of Retrieving, Remembering, Recreating
Raquel Carrió (Cuba) - Building a Structure
Dawn Albinger (Australia) - Reflection on Hope
Pilar Restrepo (Colombia) - Living and dying as a dream
Zoe Gudović (Serbia) - One Part of Me
Geddy Aniksdal (Norway) - Notes for Tomorrow