Dining for Activism
Bond Street Theatre joins Dining for Women in helping women around the world! Thanks to generous support from Dining for Women, we are embarking on three-year creative arts projects for women in Afghanistan, Malaysia and Myanmar!
Dining for Women, a global giving circle dedicated to transforming lives and eradicating poverty among women and girls in the developing world, supported our work in the Women's Prisons in Afghanistan in 2014, and has selected Bond Street Theatre as a Sustaining Grantee in recognition for our work promoting peace and mutual understanding through the arts, and dedication to helping women in critical areas.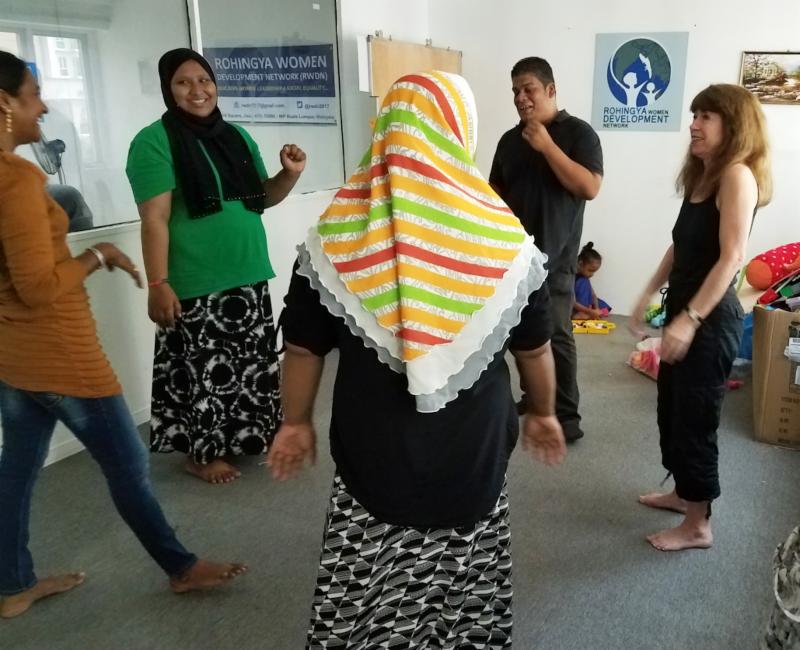 Our Dining for Women-supported program introduced theatre and storytelling into the rehabilitative process for incarcerated women in Afghanistan to heal, build self-esteem, encourage self-expression, and provide life skills to ease reentry into society. The project took place in the Herat Women's Prison, Juvenile Correction Center, OMID Women's Shelter and the Shelter for Children.
Bond Street Theatre has worked in Afghanistan since 2003, created four all-women's theatre groups, and led programs to inform communities about women's legal rights and access to justice. The company also trained 400+ Youth Leaders across the country to identify problems in their provinces, design solutions, and advocate against corruption.
Thanks to Dining for Women, we can continue our work in Afghanistan as well as with Rohingya refugees in Malaysia, and women in conflict areas in Myanmar.
In Malaysia, working with Rohingya Women's Development Network, we introduced theatre as a way for the women to create stories about their experiences, and bring accurate rights-based information to other refugees. Our next project will be about the detrimental effects of child marriage, a harmful custom that persists even today.
Pictured at right: Rohingya refugee women enjoy their first workshops in theatre and storytelling, with Joanna Sherman.
We have been working in Myanmar since 2009, partnering with Thukhuma Khayeethe (Art Travelers), and developing social outreach programs that helped children orphaned by the disasterous Cyclone Nargis and address inter-ethnic tolerance and peaceful coexistence, reaching thousands of children and citizens.
"We love Bond Street Theatre because... ...they have a proven track record of success operating in areas where human rights messaging, tolerance, and conflict resolution are critically needed on a local level, and where grassroots programs are often overlooked in favor of top-down aid." -- Dining for Women
Dining for Women works through member education and engagement, and the power of collective giving. They fund grassroots projects in developing countries to fight gender inequality, and connect people in creative, powerful ways that ensure gender equality.
Bond Street Theatre appreciates their sponsorship for our programs addressing conflict and displacement, which inordinately affect women and children, and for our creative model that boosts the ability of local communities to continue working for social justice.
Please help us with a one-time or monthly donation to help our programs grow!
We look forward to continuing this journey with you!
-- the Bond Street Theatre team
WWW.BONDST.ORG