Collective empowerment across borders
The International Womyn's Theatre Festival
in Frankfurt am Main - Germany.
2020 taught me to face fear
and to not give up on theatre.
As I write this text, I imagine an e-mail arriving in different houses, in different bodies and in contexts that go far beyond my imagination. I don't know if the person reading it is sitting, lying down, standing up, or if they are quickly reading this email among hundreds of other information from the virtual world... But I would like to invite you to be with me in the short space/time that this email reaches you.
I'm writing to share the challenges we had with the organization of the IV. Internationales Frauen* Theater-Festival during the pandemic this year. The festival has been held annually since 2017 and has established itself as a feminist platform for artists, activists and stakeholders to meet and to get to know the Magdalena Project. This year, we had to adapt almost the entire program to the outside area of our association Protagon e.V. in order to have hygiene standards and avoid the spread of the virus. The restrictions, which at first generated resistance and discouragement, led us to create new formats and expand the artistic and physical boundaries of the festival.
The curatorship was carried out through the thematic axis of intersectional feminism. Some of the shows, concerts, important talks and the symposium were streamed on the festival's website. We carried out some workshops in the open air but also in the work rooms, respecting physical distance and maintaining fresh air circulation. We also created an exclusive space for artistic work produced during the pandemic. The Pandora's Box was a container that we used to set up installations and video-performances created by quarantined women in Brazil and Germany.
The festival also hosted the premiere of the project Women Performing Europe - The Magdalena Project across Borders, supported by the Erasmus+ program of the European Union. The project consists of the exchange of experience, creation and artistic research between female managers of the associations: Protagon e.V. - Germany, Odin Teatret - Denmark, Teatro Núcleo- Italy and Teraz Poliz- Poland. The project activities will happen until 2022 and at the moment we are planning ways to get around the health crisis in these countries to continue with the implementation of the project. Through this partnership, we are once again learning how to (re)signify the challenges that borders impose on us. More information will be soon available on the project website.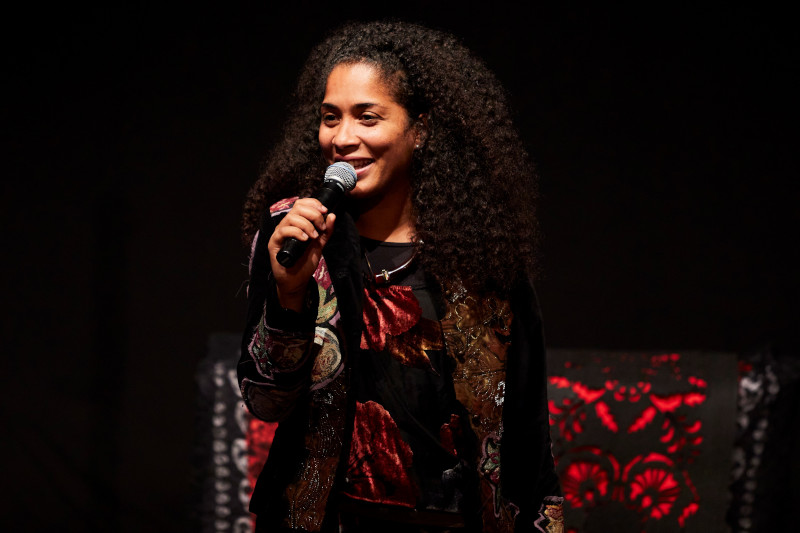 Nevertheless, the distance between us is physical and not social or emotional! Let's stay together, connecting and strengthening each other, to enter 2021 with our feet on the ground, mind and body open to (re)exist as creative women!
Barbara Luci Carvalho
Artistic Direction
Internationales Frauen* Theater Festival -Frankfurt am Main
Photo: Barbara L. Carvalho in the opening of the festival with the show Ave Maria from Julia Varley.
Photographer Katharina Dubno