33º international laboratory
"the dramaturgy of objects"
21 August 2022

to

31 August 2022
Venue:
Teatro delle Radici, Laguno
diretto da Cristina Castrillo e Bruna Gusberti / Teatro delle Radici
Italiano sotto
33º international laboratory
teatro delle radici
"the dramaturgy of objects"
formation and research gathering
August 21 – 31, 2022
directed by Cristina Castrillo and Bruna Gusberti
subject
In its long journey, the international laboratory has always tried to deepen the tools that are the basis of a representation technique. This development has privileged the creative role of the actor and has given great space to the research of those personal aspects that determine one's own expressive identity.
Many are the topics and themes that, year after year, have unraveled in a rehearsal room, as many are the participants from diverse origins who have accompanied us in this long history.
In its 33rd edition, after the many difficulties due to the pandemic, the workshop intends to place a privileged emphasis, in practical and theoretical terms, on one of the most critical and decisive presences in our work: the objects, their raison d'être, and the choice of specific objects on stage.
contents
When we exclude the presence of the objects on stage as an ornament or a tool of diverse uses; when we manage to penetrate the dramaturgy of a body that expresses itself beyond a daily contingency; when we lean on a personal memory that represents us, the object begins to speak and talks to us; it can become an extension of our narrative or a metaphor for our silence, the object as a propeller of associations, the object as a living part of our images.
So, to the everyday work of physical preparation and development of the reflective world that is the basis of the creative technique of the Teatro delle Radici, in this workshop, the emphasis will be placed on the elaboration of exercises and proposals related to the relationship of particular objects in contact with our personal and creative world.
structure
Participants will be present during the entire planned period.
Arrival day: Sunday, August 21 (before 17:00)
Departure day: Thursday, September 1 (before 12.00)
As usual, the meeting provides, in addition to the pedagogical work directed by Cristina Castrillo, the participation of special guests and the presentation of work demonstrations, performances, and talks on the subject.
conditions
the cost of the laboratory is fr. 850.
the price includes accommodation, not meals (the accommodations have a kitchen).
the cost for participants who do not need accommodation is fr. 700.
the registration request must be send with the following information: name and surname / date of birth / postal address / phone / e-mail / passport number / nationality / a brief summary (half page) of your creative journey to: info@teatrodelleradici.net or tradici@bluewin.ch
with the inscription, you must transfer an initial payment of fr.450 to the bank account:
Teatro delle Radici N° 247-419.338.01N – UBS (Unione di Banche Svizzere)- Lugano
Other bank details:  SWIFT:UBSWCHZH69A e IBAN: CH42 0024 7247 4193 3801N
The registration will not be considered valid without the initial payment. The final payment will be made upon arrival and in Swiss currency. (CH)
The deadline for registration is July 30, 2022.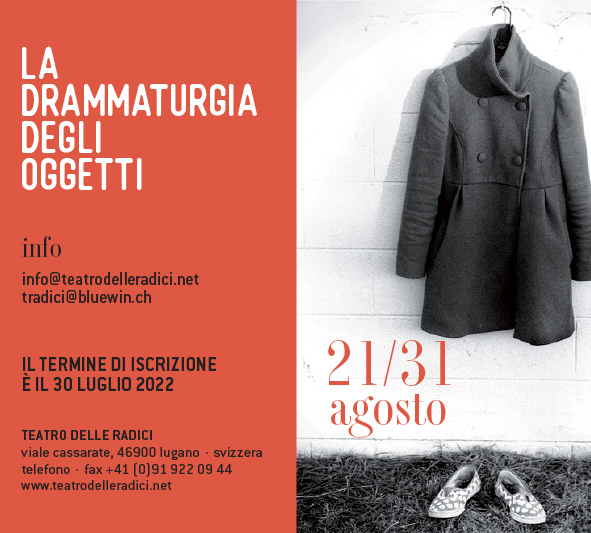 33° laboratorio internazionale
teatro delle radici
"la drammaturgia degli oggetti"
incontro di formazione e di ricerca
dal 21 al 31 agosto 2022
diretto da Cristina Castrillo e Bruna Gusberti
tematica
In questo lungo percorso, il laboratorio internazionale ha sempre cercato di approfondire gli strumenti che sono alla base di una tecnica di rappresentazione; uno sviluppo che ha privilegiato il ruolo creativo dell'attore e dato grande spazio alla ricerca di quegli aspetti personali che determinano la propria identità espressiva.
Sono davvero tanti gli argomenti e le tematiche che anno dopo anno si sono dipanati in un sala di prova, come tante le provenienze e i partecipanti che ci hanno accompagnato in questa lunga storia.
Arrivando alla 33° sessione, e dopo le enormi difficoltà avute a causa della pandemia, il laboratorio intende porre un accento privilegiato, in termini pratici e teorici, a una delle presenze più importanti e determinanti nel nostro lavoro: gli oggetti, la ragion d'essere e la scelta di determinati oggetti in scena.
contenuti
Quando escludiamo la presenza degli oggetti in scena come un adorno o un attrezzo di svariata utilità, quando riusciamo a inoltrarci nella drammaturgia di un corpo che si esprime al di là di una contingenza quotidiana, quando ci appoggiamo su una memoria personale che ci rappresenta, l'oggetto inizia a parlare e parlarci, può diventare prolungamento del nostro racconto o metafora del nostro silenzio.
L'oggetto come propulsore di associazioni allora, l'oggetto come integrante vivo delle nostre immagini.
Quindi, al consueto lavoro di preparazione fisica e di sviluppo del mondo introspettivo che sono alla base della tecnica creativa del Teatro delle Radici, in questo laboratorio l'accento verrà posto sull'elaborazione di esercizi e proposte attinenti il rapporto di determinati oggetti a contatto con il nostro mondo personale e creativo.
struttura
I partecipanti saranno presenti durante tutto il periodo previsto.
Giorno d'arrivo: domenica 21 agosto (entro le 17.00)
Giorno di partenza: giovedì 1° settembre (entro le 12.00)
Come di consueto, l'incontro prevede, oltre all'approccio pedagogico diretto da Cristina Castrillo, la partecipazione di invitati speciali, così come la presentazione di dimostrazioni di lavoro, spettacoli e interventi sul tema.
condizioni
il costo del laboratorio è di fr. 850.
il prezzo include l'alloggio, non il vitto (gli alloggi sono muniti di cucina).
per i partecipanti che non abbiano bisogno di alloggio il costo è di fr.700.
dovete inviare la richiesta di iscrizione con i seguenti dati: nome e cognome / data di nascita/ indirizzo postale / telefono / e-mail / n° di passaporto / nazionalità / una breve sintesi del vostro percorso creativo (5 righe) a: info@teatrodelleradici.net o tradici@bluewin.ch
con l'iscrizione dovete versare fr.450 al conto bancario:
Teatro delle Radici N° 247-419.338.01N – UBS (Unione di Banche Svizzere) Lugano
altri dati per il versamento: SWIFT:UBSWCHZH69A e IBAN: CH42 0024 7247 4193 3801N la vostra iscrizione non sarà considerata valida senza il versamento iniziale. Il saldo sarà effettuato al vostro arrivo in valuta svizzera. (CH franchi)
il termine di iscrizione è il 30 luglio 2022